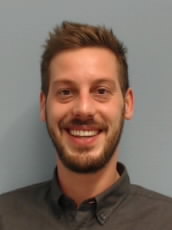 Mr. Gschwill is the Energy Manager of the Hirschvogel Automotive Group, the parent company of the Hirschvogel Umformtechnik GmbH, producer of forged steel and aluminium parts. The plant in Denklingen, where the Hirschvogel Holding is located, is the largest production facility and also the development center for the whole Hirschvogel Automotive Group.
Mr. Gschwill has been working for Hirschvogel since 2011, first as an intern in Environmental Management, implementing the ISO 50001 in Hirschvogel Umformtechnik GmbH, and then since 2013 as the Energy Manager of the group.
DFGE has had the pleasure to support Mr. Gschwill in assessing the Corporate Carbon Footprint, which calculates the CO2 emissions of the company, and in answering the CDP questionnaire, an environmental platform where businesses disclose their climate change strategy, actions and results.
This interview from July 2018 aims at gaining insight into the daily life of an energy manager in an automotive industry.
What are the current CSR-environment projects you are working on?
"Currently, I am working on a large heat recovery system project. Such project could be scalable to other plants and will lead to high quality heating system. The heat can then be used for production & ORC processes or an absorption chiller.
In addition, I am also working on a more flexible consumption of our plants, to avoid respond to the volatility of the renewable energy."
Managing CSR projects, what is important? Can you share some insights?
"It is important to understand what the legal boundaries are. Then, you can react fast and also work on any non-conformities. In addition, it is key to communicate the legal aspects to the plant managers so that they can implement them.
To go further, and carry out improvements, it is critical to show that this is also financially viable and that it will bring a good return on investment.
Legal and monetary aspects are successful drivers for communication with the management on such topics.
The worst CSR fail that impressed you?
"The German policy for energy transition (Energiewende). Most of the contents were regulated after the publication of the policy, making it hard for company to secure safe investments."
How do you inform yourself about CSR-news?
"Through my network, mainly. I am regularly in touch with the suppliers and our various internal departments, who can share insights on the latest technical trends.
In addition, I have subscribed to various newsletter including from the big consultancies, who share constant updates on the legal aspects."
What do you see as CSR trends? In your business? In your private life?
"Since 2013, our internal management board pays increasing attention to sustainability topics (energy and social aspects). Our customers ask more transparency by requesting that we take part to the CDP, for example. In addition, the media is also covering the topic extensively, for example with the Diesel Scandal".
How do you try to be sustainable in your private life?
"My personal habits are inspired from our practices at work:
Separate waste
Reduce water consumption
Use electric appliances only when need
Benefit from natural heating, cooling and lighting
Regarding the shopping, we buy local and seasonal, in order to reduce the carbon footprint and to support our local areas, but because seasonal fruit and vegetables taste much better!"
Do you have a tip to relax?
"To relax, I do sports (I cycle in our beautiful Bavaria), and I enjoy quality time with my family and friends, with sometimes the occasional beer."
Overall, a very sustainable and German practice, as the interviewer from France will not fail to comment.
Many thanks to Mr. Gschwill to share these insights on the reality of managing environmental projects in a production company!