Corporate Sustainability Reporting Directive Whitepaper
Verpflichtende Nachhaltigkeits-Berichterstattung in der EU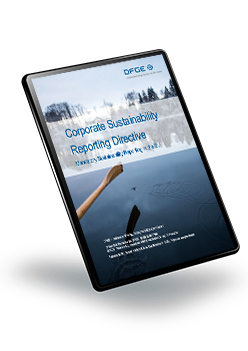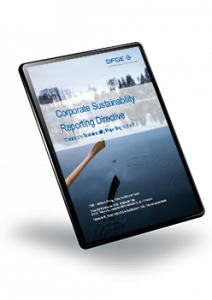 Bereits seit 2017 sind große börsennotierte Unternehmen im Rahmen der Non-Financial Reporting Directive (NFRD) der EU dazu verpflichtet, über Umwelt- und Gesellschaftsaspekte zu berichten (Europäisches Parlament & Europäischer Rat, 2014). Mit der Corporate Sustainability Reporting Directive (CSRD) ist diese Richtlinie nun grundlegend überarbeitet worden. Ziel ist es, die Nachhaltigkeitsberichterstattung in der EU zu erweitern, qualitativ zu verbessern und zu vereinheitlichen. Unter anderem wird ihr Geltungsbereich massiv ausgeweitet, sodass eine größere Zahl an Unternehmen zur Berichterstattung verpflichtet ist. Im Einklang mit anderen Werkzeugen des EU Sustainable Finance Pakets soll sie so zur Transformation der europäischen Wirtschaft beitragen (Press office – General Secretariat of the Council, 2022).
Die CSRD wird auch für die deutsche Umsetzung der NFRD, das CSR-Richtlinien-Umsetzungsgesetz (CSR-RUG) wesentliche Änderungen mit sich bringen. Was dies für Unternehmen in Deutschland bedeutet, soll mit diesem Corporate Sustainability Reporting Directive Whitepaper dargestellt werden.
Um Ihr kostenloses Exemplar zu erhalten, füllen Sie bitte das untenstehende Formular aus – Sie erhalten dann eine E-Mail mit dem Link zum Download des Whitepapers.