Aside from the price, non-financial factors increasingly play a role when making purchasing decisions. Large corporations face mounting pressure to not only demonstrate sustainability practices within their own organisation but also along their supply chain.
Due to this, the resulting number of audits has presented suppliers with a variety of challenges: often, a multitude of different audit questionnaires must be answered. This is not only time-consuming, but also costly. Often, suppliers neither receive any feedback about their performance, nor are offered support for improving their sustainability efforts.
To improve this situation, EcoVadis provides a cloud-based collaborative platform through which buyers can request their suppliers to answer a standardised questionnaire. Suppliers only have to fill out a questionnaire once which can then be shared with multiple buyers at the same time. Thanks to this, the amount of time, effort and money spent on both sides is reduced and buyers and suppliers can collaboratively work on improvements.
To accommodate company-specific circumstances, EcoVadis offers graded paid services. Suppliers can choose between three EcoVadis packages – Basic, Premium and Corporate – differing in price, depending on the features activated.
Basic EcoVadis package– fulfilling client requirements
The Basic EcoVadis package is for suppliers focusing on fulfilling their customers' requirements. This package includes the following benefits:
A company-specific questionnaire, depending on your size, sector and locations
A scorecard including feedback to each theme, sector-wide benchmarking analysis
Secure and confidential data storage
Collaborative improvement tools
Share scorecard with member in the EcoVadis network
CSR how-to guides and industry profile
Premium EcoVadis package – build and promote your sustainability profile
If you would like to expand your sustainability activities and want to effectively promote these externally, then the premium package is the right one for you. It includes all Basic EcoVadis package benefits plus:
Unlimited scorecard sharing outside the EcoVadis network
Monitor brand reputation with 360° Live CSR news alerts
In-depth CSR performance report
Broadcast your success: CSR badge, certificate, & more
Corporate EcoVadis package – manage group CSR performance across all entities
For companies with multiple entities wanting to roll out their sustainability strategy group-wide, the corporate package is the most appropriate one: this includes all premium benefits plus:
View & manage all subsidiary Scorecards from one dashboard
CSR analyst debrief
Dedicated support
Free upgrade to Premium for subsidiaries
Optional group billing
The following table provides an overview of the three packages and their features[1]: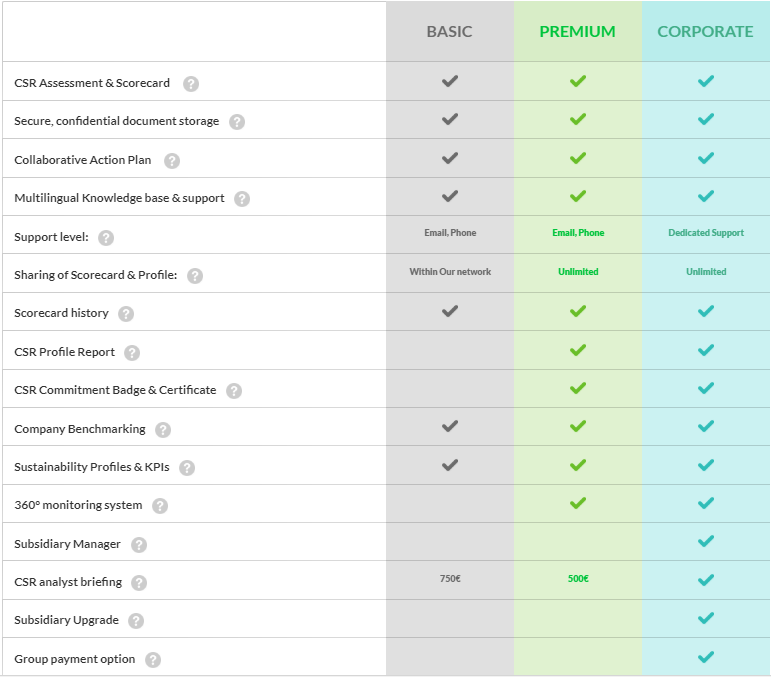 As the EcoVadis process progresses, many suppliers reach the point at which they would like to involve their own suppliers. In this case, a supplier can turn into a buyer and request their own suppliers to answer the EcoVadis questionnaire. For this purpose, EcoVadis offers the Enterprise package with the subscription fee based on a company's size and turnover.
If you have recently been requested by a client to answer the EcoVadis questionnaire and are unsure which package to choose, feel free to contact us. DFGE has been the official EcoVadis partner in Germany, Austria and Switzerland since 2015 and offers various paid and unpaid EcoVadis support services. To get started with EcoVadis, we offer a series of free of charge webinars which you can register for here. For further, more in-depth support, please contact Judith Ruppert or visit our website.
Further information about the different packages as well as prices can be found here: http://fees.ecovadis.com/