The United Nations Global Compact (UNGC), a sustainability standard, will experience some changes from 2018. In this article, DFGE aims to share with you the main UNGC updates.
First UNGC Update: two different participant options
The UNGC is a voluntary initiative to implement universal sustainability principles and to take steps to support UN goals.[1]
Before 2018, there was only one option. The companies committed to the 10 Principles of the UNGC through the letter of commitment; then, they needed to report progress on how such principles were implemented through the Communication on Progress, (COP) a report of UNGC. They also needed to make a voluntary contribution.
Now, organizations can choose between two statuses: Signatory or Participant. To simplify it, Signatory stands for the former option (including letter of commitment and yearly COP, and contribution) while the Participant option provides more networking activities, access to more resources and materials, among others perks.
Below is a graph extracted from the 2018 Toolbox of UNGC to recap the contents of both options.
Figure 1 Signatory and Participant Details[2]
Second UNGC update: fixed required contribution
In a recent letter, the UNGC explains why they will now ask for fixed required contributions (which were voluntary before). Companies earning more than 50 Mio. USD of revenues need to check the table below to see what they are required to donate. Organizations earning less can choose to make a voluntary contribution.
Figure 2 Required Annual contribution[3]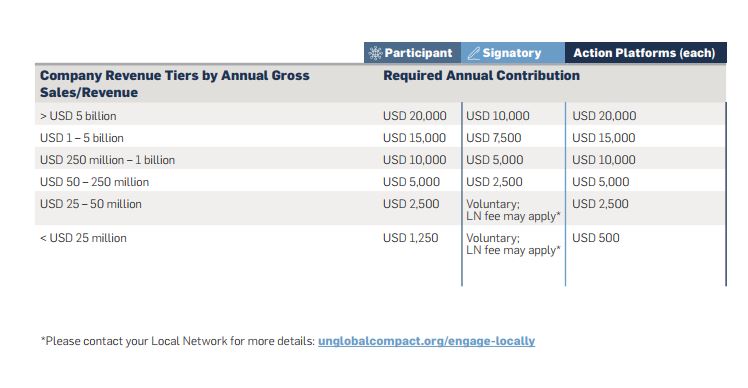 Third UNGC update: inclusion of Sustainable Development Goals (SDGs)
The UNGC is also increasingly including  the Sustainable Development Goals (SDGs) into the Global Compact. The SDGs are the 2030 Worldwide Sustainability agenda for countries, including 17 Goals. As DFGE already stated, businesses are also key to reach such global goals.
The template of the letter of commitment now contains a reference to the SDGs, and when submitting the Communication on Progress, during the self assessment, companies can report the SDGs addressed by the activities described in the COP. DFGE recommends organizations to structure some of their targets and indicators towards this goal. More about SDGs here.
What do you need to do if you supported the UNGC in the past years?
Check your organization level of revenues to know your required fixed contribution
Choose your new level of commitment for 2018 between Signatory and Participant
Accordingly, check your communications materials: they should not mention that your company is a Participant if you are Signatory.
Then, make the contribution according to your status for 2018
Prepare the COP as usual, and try to include more mention to SDGs to help the UNGC further here
Still unsure of what do to? Contact us at   for more information or check our UNGC support.
[1] https://www.unglobalcompact.org/about
[2] https://www.unglobalcompact.org/docs/publications/2018_Toolbox.pdf , p.5
[3] https://www.unglobalcompact.org/docs/publications/2018_Toolbox.pdf p.5