Hintergrundbeitrag: Die Mehrheit unserer Beiträge behandelt das Thema CSR; wir berichten über aktuelle Entwicklungen und versuchen, Auswirkungen auf die tägliche Praxis im Unternehmen darzustellen. Unsere Hintergrundbeiträge haben einen etwas anderen Blickwinkel: Hier werden Trends, wissenschaftlicher Hintergrund und gesellschaftliche Auswirkungen unternehmerischer Nachhaltigkeit erklärt – manchmal mit einem persönlichen Touch.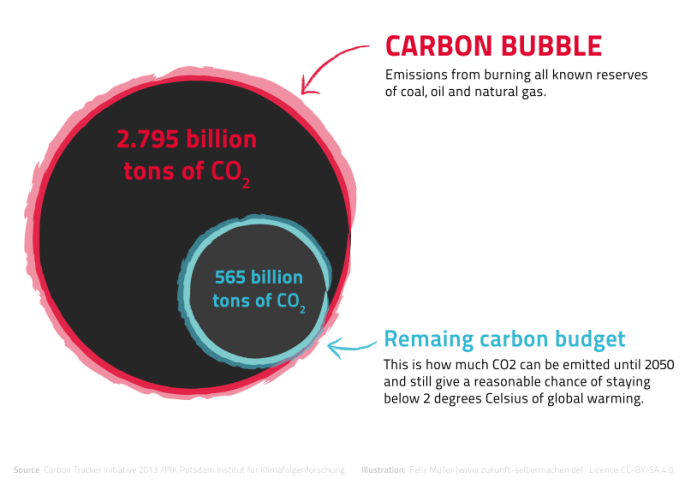 Haben Sie schon von der Kohlenstoffblase gehört? Falls nicht, hier die gute Nachricht: Bisher existiert sie nur in der Theorie. Falls sie allerdings irgendwann entsteht, und das ist der Knackpunkt, wird sie groß werden, sehr groß. So groß, dass ihr Platzen dramatische und unabsehbare Auswirkungen haben könnte.
Doch der Reihe nach: Mit dem Begriff "Kohlenstoffblase" wird eine hypothetische ökonomische Blase am Finanzmarkt bezeichnet. Eine solche Blase entsteht, wenn erheblich mehr Geld in einem Markt vorhanden ist, als dass es durch die zukünftig zu erwartenden Gewinne in diesem Markt zu rechtfertigen wäre. Oder einfacherer gesagt: in einer Blase erhoffen sich Anleger sehr viel von der Entwicklung eines Marktes, bis irgendwann herauskommt, dass die Geld-Anlagen sehr viel weniger wert sind, und dass sich alle verspekuliert haben; die Blase platzt.
Im Falle der Kohlenstoffblase geht es um den Markt der großen globalen Öl- und Kohlekonzerne. Momentan (und schon seit Jahren) machen diese sehr viel Gewinne, denn der Welt-Bedarf nach Kohle und Öl steigt unaufhörlich. Die weltweiten Reserven an Kohle, Öl und Gas entsprachen im Jahr 2011 unfassbaren 2,8 Milliarden Tonnen CO2[1], und jedes Jahr werden neue Lagerstätten entdeckt. Die Förderunternehmen werden von Anlegern als sehr wertvoll beurteilt, denn die Aussichten sind auf den ersten Blick ja glänzend.
Wäre da nur nicht der Klimawandel. Seit der Klimakonferenz in Kopenhagen 2009 strebt die internationale Staatengemeinschaft eine Begrenzung der Erderwärmung auf 2°C an, verglichen mit dem Niveau vor der Industrialisierung. 1°C Erwärmung haben wir nun schon erreicht[2], was den zukünftigen Spielraum weiter begrenzt. Um unter der Zwei-Grad-Grenze zu bleiben, müssten 80% der weltweiten Reserven an Kohle, Gas und Öl im Boden bleiben, was für die großen Unternehmen der fossilen Energiewirtschaft eine Katastrophe wäre. Diese Konzerne würden schlagartig an Wert verlieren, und die Investoren müssten erhebliche Summen abschreiben; die Folgen für die Branche und darüber hinaus wären schwer absehbar.
Was hat das alles mit uns zu tun? Nun, auf den zweiten Blick eine ganze Menge:
Zum einen führt die Kohlenstoffblase vor Augen, wie weit reichend die gesetzlichen Regelungen sein werden, die in den nächsten Jahren zu erwarten sind. Der Klimagipfel in Paris hat gezeigt, dass es der Staatengemeinschaft ernst ist mit der Begrenzung der Emissionen, vermutlich sogar ernst genug, um sich mit den großen Kohle- und Ölförderern anzulegen. Und dazu gehören immerhin sieben der zehn größten Unternehmen der Welt[3].
Zum zweiten zeigt uns die durch die drohende Kohlenstoffblase entstandene Divestment-Bewegung, dass der Ausstoß von Emissionen zunehmend zur moralischen Frage wird; die von vielen lokalen Gruppen getragene Bewegung agiert unter dem Grundsatz "It's wrong to profit from wrecking the planet" und zwingt öffentliche und private Institutionen durch Druck der Öffentlichkeit, aus emissionsintensiven Konzernen zu de-investieren, und das Geld in emissionsärmere Investments umzuleiten. Und das bisher augenscheinlich recht erfolgreich.
Es gibt also für Firmen seit neustem ein paar gute Gründe mehr, die unternehmensbezogenen Emissionen in den Griff zu kriegen;  neben der vorausschauenden Anpassung an kommende gesetzliche Normen ist auch ein drohender Reputationsverlust in der öffentlichen Meinung ein Risiko.
Die DFGE kann Sie bei der Berechnung Ihres unternehmensweiten Carbon Footprints und bei der Identifikation von Reduktionspotenzialen unterstützen  – kontaktieren Sie uns unter oder unter +49.8192.99733-20 für mehr Informationen!
Mehr Infos rund um das CO2-Management für Unternehmen finden Sie unter https://dfge.de/carbon-footprint-berechnung/.
Quellen:
[1]
http://www.carbontracker.org/report/carbon-bubble/
[2]
http://www.spiegel.de/wissenschaft/natur/klima-globale-erwaermung-erreicht-1-grad-schwelle-a-1061895.html
[3]
http://www.theguardian.com/sustainable-business/blog/fossil-fuels-pension-divestment
Bildmaterial: Die Kohlenstoffblase (Quelle: https://en.wikipedia.org/wiki/Carbon_bubble)