In 2016 an update to the GLEC Framework was released: a guide for shippers, carriers and logistics service providers on how to report emissions from logistics operations.
What is the GLEC?
The Global Logistics Emissions Council (GLEC), led by Smart Freight Centre, is a group of companies, associations and programs, and backed by leading experts and other stakeholders.[1] They have launched in 2014 the GLEC framework, a unique methodology to report CO2 emissions, that covers all modes of transport and transhipment centers across the global logistics supply
What is included in the GLEC Standard?
The GLEC Standard is based on existing internationally recognized methodologies and researches
CEN 16258,
Clean Cargo Working Group,
IATA RP 1678 and SmartWay,
EU funded project COFRET
US National Cooperative Freight Research Program[2]
The GLEC Standard tries to integrate relevant emission calculation standards for logistics companies: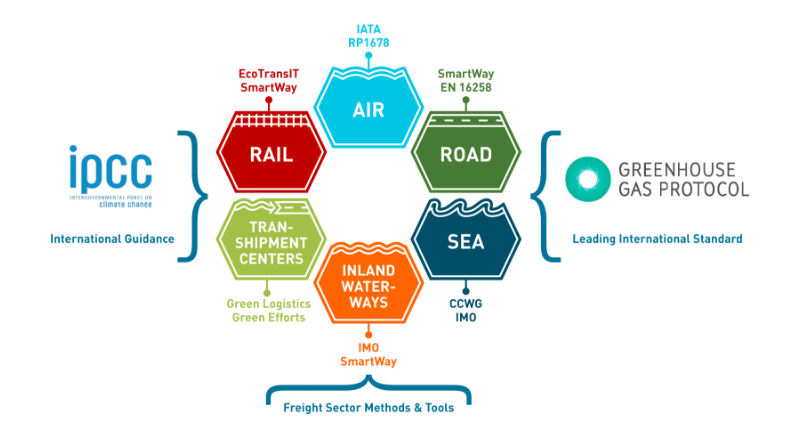 The GLEC Framework has been approved by various actions:
The Draft framework undergone a year of consultation;
Four companies validated the GLEC Framework;
It carries the GHG Protocol Built on Mark.
What is the goal of this framework?
Allowing easier comparison
Reducing reporting burden with only one standard
Reaching more transparency
Granting competitive advantage also for smaller companies
What are the next steps?
Leading multinationals including DB Schenker, Deutsche Post DHLGroup, HP, Intel, Kuehne+Nagel, Hewlett Packard Enterprise, GEODIS and FRET SNCF have already committed to adopting the GLEC Framework. All companies are recommended to adopt such framework.
Do you want a valid emission calculation?
DFGE can help you assess your logistic and transport emissions following international frameworks. With two decades of experience working with global logistic providers and large distribution companies we provide you with the tools, methodology and a smart integration in your CSR-strategy.  Check our webpage for more information.
To access the Summary of the GLEC framework: GLEC Framework for Logistics Emissions Methodologies
To access the full methodology: http://www.nucms.nl/tpl/smart-freight-centre/upload/SFC_GLEC_Framework.pdf
[1] Source: http://www.ghgprotocol.org/node/474
[2] Source:  http://www.smartfreightcentre.org/glec/glec-framework
Source of graph:source: http://www.smartfreightcentre.org/glec/glec-framework