Das TCFD-Rahmenwerk (Task Force on Climate-related Finance Disclosures) erfreut sich steigender Beliebtheit. Vorsitzender Mike Bloomberg und Mark Carney (Chef des Finance Stability Boards) verkündeten auf dem "One Planet Summit" (zusätzlicher Weltklimagipfel am 2. Jahrestag des Pariser Klimaabkommens in Île Seguin, Frankreich) die wachsende Bedeutung von TCFD und die damit verbundene ansteigende Unterstützung aus dem wirtschaftlichen Umfeld.
Was ist der TCFD?
TCFD gibt Empfehlungen zur Offenlegung und Berichterstattung klimarelevanter Daten (Chancen und Risiken) für Unternehmen, die indirekt und direkt von klimabedingten Finanzrisiken betroffen sind. Insbesondere Stakeholder von diesen Unternehmen (z. B. Investoren, Banken, Versicherungen, …) fordern derartige Informationen ein, denn eine falsche Allokation und Zuweisung investierter Gelder (auf Grund nicht berücksichtigter Klimafaktoren) stellt ein großes Risiko für die Finanzmärkte dar. Durch die TCFD-Leitlinien können derartige Auswirkungen besser eingeschätzt sowie die Transformation hin zu einer nachhaltigen und kohlenstoffarmen Wirtschaft erreicht werden.
Struktur des TCFD
Klassifizierung in:
Physische Risiken (durch den Klimawandel selbst bedingt, z. B. Anstieg des Meeresspiegels, Extremwetterereignisse, …)
Übergangsrisiken (meint den Übergang zu einer kohlenstoffarmen Wirtschaft; ein Risiko hierbei liegt z. B. in strenger werdenden Regularien zum Klimaschutz begründet)
Aufbau: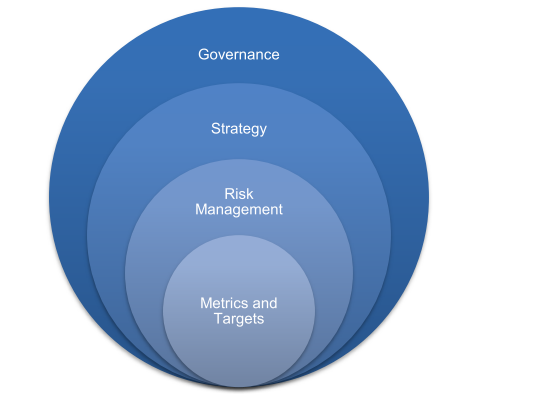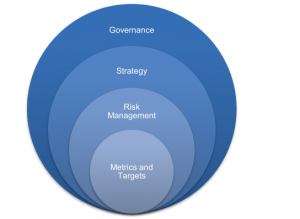 Abb. 1: Darstellung des Aufbaus des TCFD-Rahmenwerks (Quelle: Paper "CDP Technical Note on the TCFD", S. 8)
Aktuelle Entwicklungen
Über 240 Unternehmen (Stand: Feb. 2018) nehmen derzeit am TCFD teil (Marktkapitalisierung von ca. 6,3 Billionen $)
Darin inbegriffen: u. a. diverse (Groß-)Banken und Versicherungen, die für Anlagen im Wert von insgesamt 81,7 Billionen $ verantwortlich sind
Durch TCFD-Empfehlungen können durch den Klimawandel bedingte Chancen und Risiken standardisiert gemessen und transparent berichtet werden, da den Unternehmen (großteils) noch eine geeignete Datenbasis hierfür fehlt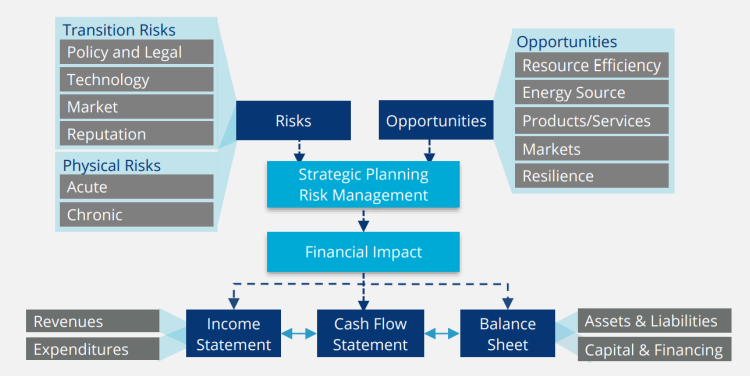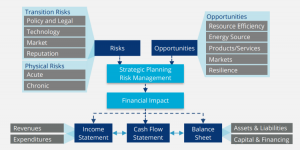 Abb. 2: Einfluss klimabedingter Risiken und Chancen auf Finanzen (Quelle: Paper "CDP Technical Note on the TCFD", S. 6)
Bezug zu CDP und anderen Initiativen
Neuer CDP-Fragebogen richtet sich vermehrt an TCFD-Empfehlungen (insgesamt 26 Fragen)

Insbesondere in den Bereichen Governance, Strategie, Ziele und Emissionsdaten (siehe hierfür auch Abb. 1)
Gründe für die Ausrichtung an TCFD liegen u. a. in der gesteigerten Transparenz und in der Möglichkeit, einen unternehmenseigenen Fahrplan für die Erfüllung des "2-Grad-Ziels" zu entwerfen
TCFD-Empfehlungen beinhalten wichtige Szenario-Techniken (Anwendung nun auch im CDP-Fragebogen)
Außerdem ist nun eine detailliertere Analyse der klimabedingten Risiken und Chancen im Rahmen einer CDP-Teilnahme möglich
Zusätzliche Informationen hierzu finden Sie auch in unserem Blogeintrag zum neuen CDP-Fragebogen 2018

Der Ziel- und Szenario-Beschreibung empfiehlt sich auch eine Orientierung an den SBTs (Science Based Targets)
Daneben Übereinstimmungen mit anderen Rahmenwerken (z. B. GRI, CDSB, …)
Ausblick für 2018
Für Frühjahr 2018 ist webbasierte Knowledge-Plattform geplant (Effiziente TCFD-Unterstützung für interessierte Unternehmen, abrufbar unter: tcfdhub.org)
Gegen Ende des Jahres sind Erfahrungsberichte und Offenlegung von "Good-Practice-Beispielen" geplant
Unsere Leistungen
Die DFGE unterstützt Ihr Unternehmen bei einer geplanten Umsetzung der TCFD-Empfehlungen und bei allen damit in Zusammenhang stehenden Maßnahmen, um Ihr Unternehmen bestmöglich "klimafit" zu machen. So können bspw. die Berechnung des unternehmensweiten CO2-Fußabdrucks (Carbon Footprint) oder auch die Orientierung an den Science Based Targets erste strategische Schritte sein, unternehmensrelevante Klimarisiken und -chancen zu identifizieren. Die Teilnahme am CDP ermöglicht die umfangreiche Bündelung wichtiger Daten und hilft für ein (zukünftig) besseres Verständnis zu dieser Thematik. Kontaktieren Sie uns für Ihre Sustainability Intelligence unter oder +49 8192 99733-20.
Weitere Informationen zum TCFD finden Sie u. a. unter folgenden Quellen: