Location based oder market based Scope 2 Emissionen für CDP? Hier liegt der Unterschied!
Seit dem Jahr 2016 müssen Unternehmen im CDP Fragebogen erklären, ob die angegebenen Emissionswerte für zugekauften Energien wie Strom – den sog. den Scope 2 Emissionen – "market based" beziehungsweise "location based" berechnet sind. Hiermit folgt CDP den Richtlinien des Greenhouse Gas Protocol. Um die Zahlen vergleichbar zu machen, müssen Unternehmen eine der Optionen der Scope 2 Emissionen für CDP wählen und die Angaben aus dem Vorjahr gegebenenfalls entsprechend umrechnen.
Market Based
Marktbasierte Zahlen beziehen sich auf die Emissionsfaktoren des Stromlieferanten oder eines individuellen Stromprodukts.
Location Based
Ortsbasierte Zahlen beziehen sich auf die durchschnittlichen Emissionsfaktoren des Gebiets, in dem der Stromverbrauch stattfindet. Meist wird hier der Durchschnitt auf Länderebene herangezogen.
Ein Beispiel
Mit dem folgenden Beispiel soll der Unterschied zwischen den beiden Ansätzen verdeutlicht werden.
Das Unternehmen A hat Standorte in vier verschiedenen Ländern. Die untenstehende Tabelle zeigt die unterschiedlichen Stromverbräuche auf. Berechnet man die CO2 Emissionen in Megatonnen, so ergibt sich nach "location based" Ansatz ein Wert von 2800 Mt. Berücksichtigt man, dass der Standort in den USA 100% des verbrauchten Stroms mit REC-Zertifikaten neutral gestellt wird und der Standort in Indien 50% des Bedarfs aus erneuerbaren Energien auf Grund eines speziellen Vertrags bezieht, so ergibt sich nach "market based" Ansatz ein Wert von nur 1750 Mt.



Quelle: Eigene Tabelle nach CDP (2016): Accounting of scope 2 emissions
Wie gehe ich für mein Unternehmen vor?
Die nachfolgende Grafik dient als Entscheidungshilfe, welcher Ansatz für Ihr Unternehmen herangezogen werden sollte: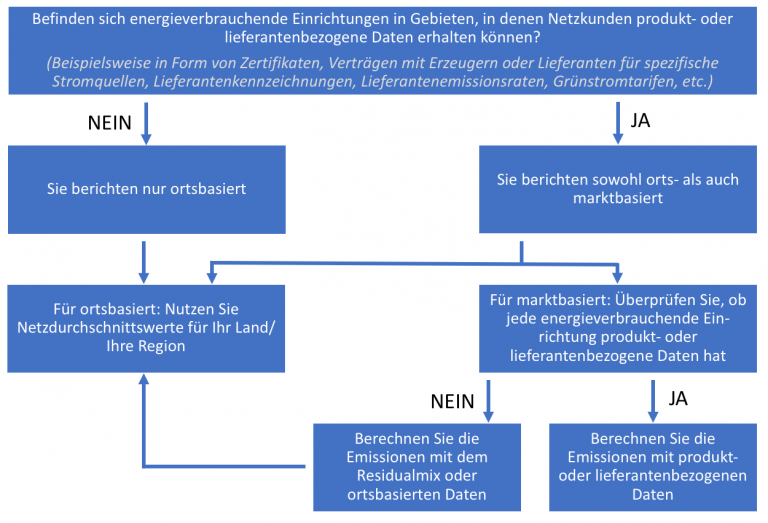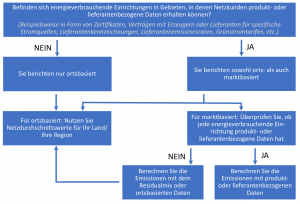 Quelle: Eigene Abbildung nach World Resources Institute (2015): GHG Protocol Scope 2 Guidance
Nachdem entschieden wurde, ob "market-" oder "location based" vorgegangen wird, müssen die Emissionsfaktoren je Emissionsquelle ausgewählt werden. Hierfür legt das GHG-Protokoll eine klare Hierarchie vor, welche in der unten stehenden Grafik dargestellt wird.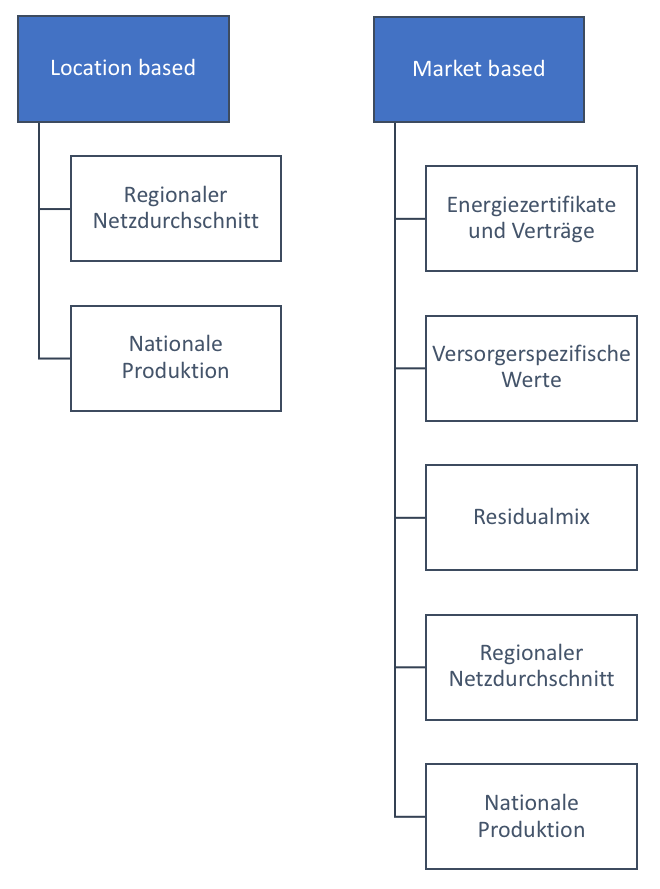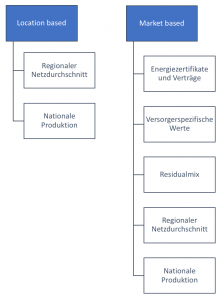 Quelle: Eigene Abbildung nach CDP (2016): Accounting of scope 2 emissions
Wenn Sie Fragen zur Emissionsberechnung nach GHG oder zu Ihrer Teilnahme am CDP haben – kontaktieren Sie die Experten der DFGE. Als offizieller CDP Silver Climate Change Consultancy Partner unterstützen wir Sie bei Datensammlung, Aufbereitung und Zusammenstellen aller Antworten Ihres Unternehmens für den CDP Fragebogen. Durch unsere Erfahrung und als akkreditierter CDP Provider können wir den Aufwand auf Ihrer Seite minimieren und eine erfolgreiche Teilnahme mit unseren Lösungen sicherstellen.
Die DFGE verkürzt und vereinfacht mit ihrer DFGE Top-Down Methode die Ermittlung des Carbon Footprint für Unternehmen. Wir selektieren für Sie die kritischen Einflussfaktoren, nutzen Benchmark-Daten und berücksichtigen zugängliche Finanzdaten. In nur wenigen Wochen kann so ein verlässlicher Wert der unternehmensweiten Treibhausgasemissionen ermittelt werden. Diese rasche und transparente Ermittlung erlaubt Unternehmen, sich auf die Umsetzung der Reduzierungsmaßnahmen der CO2-Emissionen konzentrieren zu können.
Kontaktieren Sie uns per Email via  oder telefonisch unter 08192 99733 20.