Every year on April 22, Earth Day is celebrated in over 190 countries. In many countries, year after year, a new focus is set on which actions are planned. This year's motto is in Germany as well as in the USA (origin of the movement) the protection of our species and implicitly the protection of biodiversity.
What is the Earth Day?
In 1970, Earth Day was born as a student movement in the United States. It should demonstrate the existence of a strong environmental movement to politics and the public. Since then, millions of people and organizations in many countries around the world have been demonstrating on April 22 to raise awareness of environmental issues. Actions on a local and global level should give food for thought to a more sustainable world. The German Earth Day movement is summarized in a national committee, based in Frankfurt. The 2019's theme is 'Protect Our Species'.
Biodiversity is an elementary factor in our livelihoods
The basis for a balanced and well-functioning environment is the diversity of ecosystems, genetic diversity and the richness of animal and plant species (UBA, 2014). These three areas are closely linked and are grouped together to form the term 'biodiversity'. An ecosystem refers to the interaction between a habitat (e. g. forest, lake) and its animal and plant inhabitants. The individual components of the ecosystem are interdependent and in constant interplay. If a component changes or is completely missing, the entire ecosystem changes (Greenpeace, 2019). Intact habitats, in turn, are fulfilling fundamentally important functions, such as air regulation, water purification, protection against soil erosion, cultural functions such as recreation, etc.
In this context, bees and insects play an essential role, since they are indispensable for the survival of our terrestrial ecosystems through plant pollination and as a food source for other animal species (BfN, 2018). In addition, a huge part of our food production depends on pollination by insects and particularly bees (vgl. BfN, 2018).
SOS – Save Our Species
Through human activity, the planet Earth is currently facing the largest species extinction since the loss of dinosaurs. In particular, the deforestation of rainforests, land sealing, accelerated climate change, unsustainable agriculture, the use of pesticides, (plastic) waste pollution and overfishing lead to the decline or damage to balanced habitats and are reasons for this development (earthday, 2019).
In the context of this year's Earth Day, the earthday initiative has focused on bees, giraffes, coral reefs, whales, elephants, insects, trees, plants, and many others as these animal and plant species are particularly threatened and play fundamental roles for rural and marine ecosystems as well as for humans (vgl. earthday, 2019).
From a global perspective, the available data are providing an alarming signal (see also Fig. 1):
Since 1970, the number of species living in the countryside has decreased by 40%
The decline of marine populations and of all bird species is also 40%
In some parts of the world, the amount of insect populations has decreased by 75%
One quarter of coral reefs are already irreversibly damaged (for the listed information: see earthday, 2019)
Since the publication of the so-called 'Red List' (1962), approximately 90,000 species have been recorded worldwide, of which around 26,000 are considered threatened according to the most recent list (de, 2019)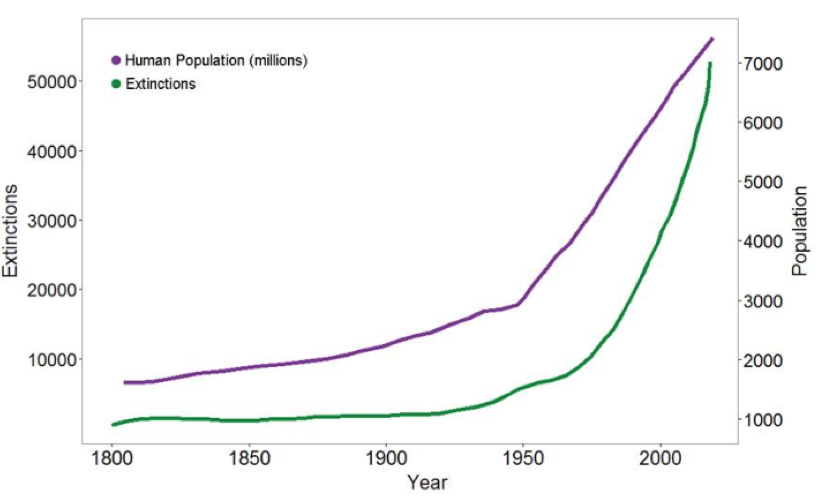 Fig. 1: Almost parallel progression of the increase of the human population compared to the increase of species extinction (Source: Biologicaldiversity, Data source: Scott, J.M. 2008. Threats to Biological Diversity: Global, Continental, Local. U.S. Geological Survey, Idaho Cooperative Fish and Wildlife, Research Unit, University Of Idaho.)
Effects of biodiversity loss
Biodiversity and thus, an intact ecosystem can only be kept alive through the complex interactions and interplays within an ecosystem. The emerging high decrease in number of species could lead to irreversible damage to entire ecosystems. The consequences of extinction and the loss of biodiversity manifest themselves on several levels:
Direct consequences for individual ecosystems
Economic consequences: e. g. lower revenue, follow-up costs, profit losses
Humanitarian consequences: e. g. fisheries in development countries are dependent on intact marine ecosystems in order to earn money, reduced availability of food, undiscovered (plant) species whose ingredients could potentially be used medically
Institutional and (civil) society measures to protect global biodiversity
As (civil) social engagement for increased protection of biodiversity, for example, the following initiatives can be counted:
The Earth Day movement for education, awareness raising and networking, for example regarding respectful consumption and the appeal to political decision makers
NGOs which committed themselves to the biodiversity topic (e. g. WWF) or which are responsible for special biodiversity-related campaigns (e. g. Greenpeace)
In particular, the EU Biodiversity Strategy 2020 can be seen as an institutional or political measure (further information can be found here).
Individual measures
Measures to counteract the trend described above can be done as well on consumer and business level. In the following, potential activities of individuals and companies are outlined as examples:
Purchase of seasonal and regional food (private)
Reduction of the consumption of meet and dairy products (private) – impacts the land usage
create areas for flowering meadows, e. g. in the garden (private)
Reduction / prevention of the consumption of products with palm oil (private)
Palm oil-free product strategies in the food and cosmetics industry (companies)
Use of existing industrial areas for locations (companies)
Lower use of pesticides and strengthening of biologically managed agricultural land by farms (companies)
DFGE's measures
DFGE supports companies in the CDP Forests program and in the reporting on biodiversity issues through sustainability reports, for example according to UNGC or GRI requirements, in order to strive for company-specific improvements in the biodiversity aspect. In addition, the DFGE raises awareness of the topic through presentations and discussions within the company. At the beginning of spring 2019, we also placed an insect hotel next to our head office, which is said to provide insects and bees with favourable living conditions and general protection.
If you have further questions or suggestions for discussion, you can contact us via or by phone at +49 8192-99733-20.