The supplier rating platform EcoVadis has published this year´s Sustainability Risk and Performance Index 2021. It gives insights on ratings of over 46,000 companies worldwide which have been assessed by the platform between 2016 and 2020.
The report differentiates various aspects of a company's sustainability performance on the EcoVadis assessment themes Environment, Labor and Human Rights, Ethics and Sustainable Procurement (SUP), as well as between industries and five regions. These regions include Europe, North America, Latin America, Africa/Middle East/Asia and China, which is regarded as a separate unit: EcoVadis Sustainability Risk and Performance Index 2021
EcoVadis Index at a glance: average score of 47.7
Generally, an increase on global sustainability performance could be registered. Companies yield an average score of 47.7 index points compared to the previous year where they scored 46.6 points on average. Also, the report reveals that it pays off to complete the EcoVadis assessment multiple times: companies with at least three EcoVadis assessments reach above the global average with an overall score of 53.9 index points.
In terms of overall sustainability performance in regions, Europe outperforms the other four regions with an average score of 52.1 points. It is closely followed by North America which is catching up quickly and reached a new regional high of 46.5 points. The topic on Labor and Human Rights had the strongest growth in 2020, yielding 50.7 score points on average, whetheras Sustainable Procurement fell by 0.4 points from the 2019 average to 37.6 points in 2020, and therefore remains the most challenging sustainability theme.
It could also be seen that mid-size enterprises consistently show better results than larger companies on EcoVadis sustainability metrics, and more in-depth efforts are still necessary in certain areas to gain far-reaching effects throughout the entire value chain. Moreover, highly regulated sectors (e.g., chemicals, electronics, and food manufacture) disclose better sustainability performance and year to year improvements compared to other industries.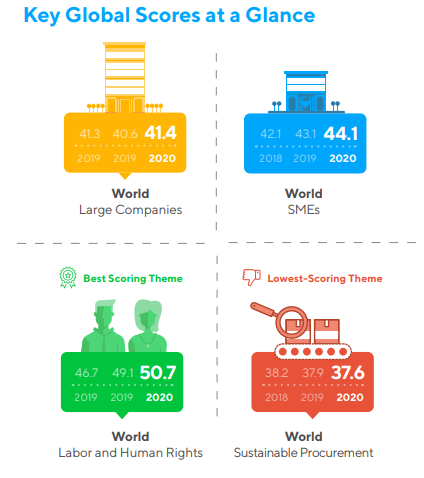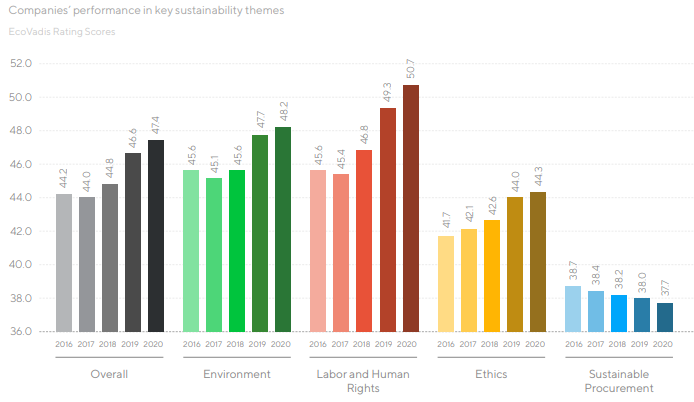 2021 Focus: Sustainable Procurement
This year's EcoVadis Business Sustainability Risk and Performance Index has a special focus on the topic of sustainable procurement (SUP). This subject that has recently gained importance since in 2020, the COVID-19 pandemic disrupted global supply chains and caused urgent procurement risks. This exposed not only the vulnerability of global supply chains but also the importance of sustainable procurement. It unveiled that sustainability risks can speed up the destabilization of supply chains, and are essential in supply chain management. Furthermore, an increasing number of regulations on supply chain due diligence in Europe and other regions drive the topic's gain in significance.
Unfortunately, there is a shortfall in global sustainable procurement practices which demonstrates that most of the companies are not prepared to comply with upcoming supply chain due diligence requirements and legal obligations. But this is not the case in every part of the world: Against the background of the European Green New Deal, the EU is on its way to mandatory due diligence, and there are already several initiatives underway or implemented at the national level, such as in France, the UK, Germany or in the Netherlands. Since in these countries due diligence initiatives are already imminent, EU companies overall present a greater sustainable procurement performance than others. In general, their performance stayed on the same level compared to the previous year and even improved in large economies like Germany, France, Italy and Spain.
DFGE supports your company with the EcoVadis assessment
DFGE is pleased with seeing that overall EcoVadis performances are improving. It shows that companies are further structuring their sustainability management systems, leading them to addressing their key sustainability impacts. DFGE, as an EcoVadis training partner since 2015, has been supporting companies in improving their practices and thus their EcoVadis performances. We look forward to supporting you with our more than 20 years of sustainability expertise and our customized services. Contact us for more information at or +49.8192.99733-20.