The CDP DACH Climate Leadership Award Conference and Ceremony 2016 took place on the 25th of October in Munich. As a longstading partner the DFGE was happy to be part of this event, which was held at Terminal 1 of the Munich Airport.  Here are the highlights of this day.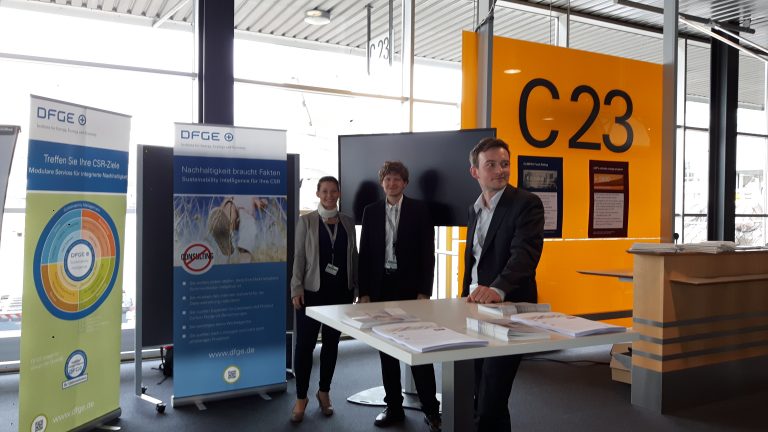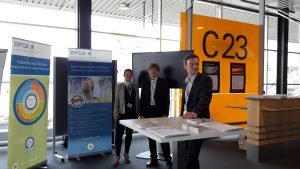 Our highlights
First, several of DFGE's DACH customers won prices and were honored. (Link to A-List, p.41) Congratulations!
Then, the CDP conference program featured interesting speeches on sustainable mobility. Indeed, the hosts of the event were Munich Airport and Lufthansa. The attendees could also make a ride in buses in the afternoon. They were showed around the airport and discovered what's behind the scene in terms of sustainability.
Moreover, there were many opportunities for exchanging among the attendees. DFGE team members noticed that most of the conversations were around how to engage the supply chain and the science-based targets
Science-Based Targets
Following the Paris Agreement, companies are now trying to see how they can make sure that global warming does not increase more than 2°C compared to pre-industrial era. Science-Based Targets is one of the methodologies to reach the objective, as it aligns companies targets on such scenario. However, for many companies it is hard to assess Scope 3 emissions and related targets. Learn here  (DFGE offer on Science-Based Targets) how you can generate or validate your own SBT.
Supply chain
Many attendees refer to the need to engage their supply chain. It is important to monitor the supply chain were most of your risks and impacts are located. Companies are looking for ways and tools to engage them. DFGE not only supports different engagement tools but also has an easy to setup solution with a  dashboard which allows you to monitor your own suppliers.
In addition, the audience was often consulted through an interactive poll. We discovered that 67% of attendees think tackling change is an opportunity, or that Science-Based Targets is considered a priority for the next years
Finally, the CDP award ceremony was filled with entertainment and interesting discussions. Congratulations to all the awardees for their efforts!
We would like to thank CDP and all the organizers for a nice and fruitful event, that our team very much enjoyed. We are looking forward to meet all of you again in the Spring Workshop ! For more questions and exchange, contact us at