Environmental Social Governance (ESG)
Environmental Social Governance (ESG) extends the concept of Corporate Social Responsibility (CSR). ESG links a responsible corporate attitude with investment decisions, so-called "socially responsible investing" or also known as "sustainable & green finance". The DAX® 50 ESG tracks the performance of the 50 largest German companies, which show a similarly good performance based on ESG criteria. The European Union is calling for "sustainable finance" and the Corporate Sustainability Reporting Directive (CSRD) is eagerly awaited.
ESG stands for "Environmental, Social and Governance" and refers to criteria used by companies and stakeholders to assess the sustainability and responsibility of companies with regard to the environment, social impacts and corporate governance.
The accompanying shift in society towards transparency and credibility shows a clear shift towards sustainable investment decisions in the capital market. But regulatory pressure in the EU is also steadily increasing. Meeting these requirements presents companies with extreme challenges. At DFGE, we support our clients in developing and implementing a CSRD-compliant ESG strategy.
In particular, we support you with:
The DFGE ESG Questionnaire
Status Quo of your ESG Management
Our ESG questionnaire is designed to help you assess the status quo in your company regarding the implementation of ESG topics and identify gaps in your sustainability management. The questionnaire is intended to give you an initial evaluation of how far advanced your company is in the areas of Environment (E), Social (S) and Governance (G). Get more information in our product video.
ESG Questionnaire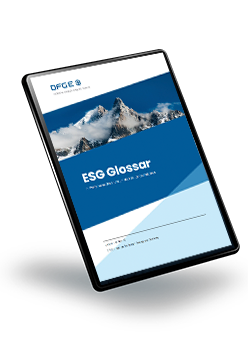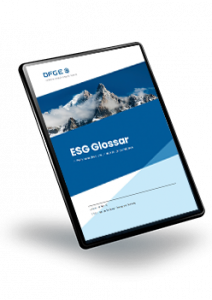 ESG Glossary
Your glossary around the ESG landscape 2023
ESG, CSRD, COP, DNK … the world of sustainability reporting is growing rapidly – and with it the number of technical terms and abbreviations. It is usually difficult to keep track of everything. For this reason, we offer you a selection of the most important and up-to-date abbreviations and descriptions in our new ESG Glossary. Take a look and download the directory free of charge.
ESG Glossary
Environmental Social Governance (ESG) Criteria
A large number of ESG criteria are included by, for example, investors in the valuation and analysis of securities in order to be able to evaluate social, ecological and ethical aspects. These include the following, among others:
Environment
Climate change
Environmental Pollution
Water/ Maritime Resources
Biodiversity/ Ecosystems
Resource use/ circular economy
Social
Appropriate working conditions and training of own workforce/value chain
Health and safety of own workforce/value chain
Equal rights and opportunities
Freedom of association and social dialogue of own workforce/value chain
Respect for fundamental labor rights
Respect for the rights of local communities
Privacy, health and safety
Governance
Prevention of corruption
Corporate culture and business conduct
Political engagement and lobbying activities
Management of relationships with suppliers, incl. payment practices
Respect for animal welfare

With our 3-phase model, we can provide holistic support on the way to a ESG strategy. Through concrete measures and practical recommendations, we accompany you in 3 phases – from analysis to roadmap – and enable you to achieve your sustainability goals.
How can DFGE help?
At DFGE, we can support you every step of the way on your journey to ESG management and reporting.
At DFGE, we can support you every step of the way on your journey to Environmental Social Governance (ESG) management and reporting. Our services range from opportunity-risk management, to the evaluation and assessment of sustainability criteria, to the full consideration of ESG criteria. As an authorized and long-standing partner of numerous ratings such as Global Reporting Initiative (GRI) or UN Global Compact and through our experience, we know the methods and can provide you with the best possible advice and take work off your hands. After all, the consideration of ecological, social and ethical aspects has long since ceased to be a nice-to-have, but represents a clear competitive advantage.
Tailor-made consulting services
Coverage of ESG criteria
Climate strategy
Workshops & trainings
Subtasks / external support
Environmental Social Governance (ESG) Ratings
ESG-Ratings are objective assessments of a company's commitment to sustainable business practices. They can help investors incorporate more non-financial but essential information into their investment process. Depending on the industry, the aspects taken into account differ or receive a different weighting. DFGE helps you to categorise these different and, above all, constantly new requirements in a uniform manner and to answer them correctly in order to actively counter capital market risks.
MSCI ESG Research is the world's largest provider of sustainability analysis and ratings in the ESG sector. It identifies and evaluates material ESG risks and opportunities worldwide, which are usually not taken into account in traditional financial analysis.

Trucost, as part of S&P Global, assesses risks relating to climate change, natural resource constraints, and broader environmental, social, and governance factors. Trucost has been founded in 2000 and has its head office in London. The company makes estimates about the hidden costs of unsustainable use of natural resources by companies. For the United Nations Environment Programme Finance Initiative (UNEP FI) Trucost estimated the cost of environmental damage by the 3000 largest public listed companies.

Sustainalytics is a global leader in ESG and Corporate Governance research and ratings. Over the last 25 years, they have brought together leading ESG research and client servicing professionals to retain that personal touch. Today, Sustainalytics supports hundreds of the world's foremost investors who incorporate ESG and corporate governance insights into their investment processes.
Other ESG rating agencies, organizations and indices >
Your Advantages
Reasons why you should choose DFGE
Experience
For more than 20 years, we have been serving leading companies when it comes to calculating, evaluating and documenting sustainability.
Time Saving
Save time and effort and use our expertise. We bring together the most diverse standards and ratings and support you with valid answers
Official Partner
As an official partner of many sustainability standards, we know the methodologies of the assessments
Scientific
Sustainability needs facts. Our origins lie in research, and this is how we still work today.
Full Service Provider
We serve our clients holistically – to fulfill company-wide Environmental Social Governance (ESG).
Transparency
Our Sustainability Intelligence solutions create transparency and synergy effects, no matter which reporting you participate in.
The concept of Corporate Social Responsibility (CSR) is being expanded to include Environmental Social Governance (ESG). This involves evaluating the social responsibility of companies or the voluntary contribution of business to sustainable development – beyond legal requirements.
While CSR refers to responsible, corporate action in the social, ecological and economic framework, ESG ideally also combines a responsible corporate attitude when it comes to investment decisions, so-called "socially responsible investing" or also known as "sustainable & green finance". In the digital age, in which it is possible for almost anyone to take a close look at the actions and background of a business enterprise, transparency and credibility are increasingly becoming the focus of corporate decisions.
The accompanying change in society towards more conscious consumption and questioning actions also shows a clear shift towards sustainable investment decisions on the capital market.
Corporate Social Responsibility and the capital market will therefore no longer be separable in the future; sustainability and annual reports are increasingly merging. For this reason, in addition to investors and banks, other players such as rating agencies, international institutions and NGOs are entering the scene. One of the best-known examples of this is the Global Reporting Initiative (GRI), which develops and issues guidelines for the preparation of sustainability reports.
The DAX has also been addressing environmental, social and ethical aspects for some time. For example, the DAX® 50 ESG tracks the performance of the 50 largest and most liquid German companies listed on the Frankfurt Stock Exchange market that show a similarly good performance based on ESG criteria. Furthermore, the stocks must have passed standardized ESG filters related to Sustainalytics' Global Compact Screening. Furthermore, companies that have a stake in businesses involving controversial weapons, tobacco production, thermal coal, nuclear energy and military contracts are excluded.
But the European Union is also gearing up for future requirements with new directives and regulations on sustainability reporting and "sustainable finance". As early as April 2021, the European Commission published its proposal for a Corporate Sustainability Reporting Directive (CSRD), which is to replace the Nonfinancial Reporting Directive (NFRD) currently in force. The proposal still has to go through the courts, but already offers a preview of the changes that will come to companies, banks and insurance companies in terms of reporting.