In April 2017, a group of leading climate and business experts convened by Christiana Figueres – former Executive Secretary of the United Nations Framework Convention on Climate Change (UNFCCC)- has identified the year 2020 as a turning point to reduce CO2 Emissions. This is called the Mission2020 or M2020.
Such campaign  takes its roots in the report "2020: The Climate turning point", which calls for urgent action to reduce carbon emissions and gives a roadmap to 2020. The goal is that global temperature increase stays below 2°C, and ideally below 1.5°C.
Why such campaign?
According to the Mission2020, such changes are:
Necessary
Desirable
Achievable
Why is it necessary? According to Mission2020, especially vulnerable communities are suffering from climate change. Indeed, they suffer from human loss and must repair damage due to severe weather impacts and rising sea levels. In other words, climate change reinforces poverty and vulnerability.
In addition, reaching the turning point is desirable. Indeed, meeting such target could result in many advantages in health, energy, food security and employment creation. For example, we can achieve energy security, benefit from clean air and water, enjoy livable cities,…
Finally, the scientific community deems that the 2020 target is achievable wtih current breakthroughs and trends. For example, renewable energies are rapidly failling in price; technologoical progress enables more usable and energy-efficient solutions (like with electric vehicles).
In order to achieve such target, the Mission2020 proposes several milestones.
What is the roadmap of Mission2020?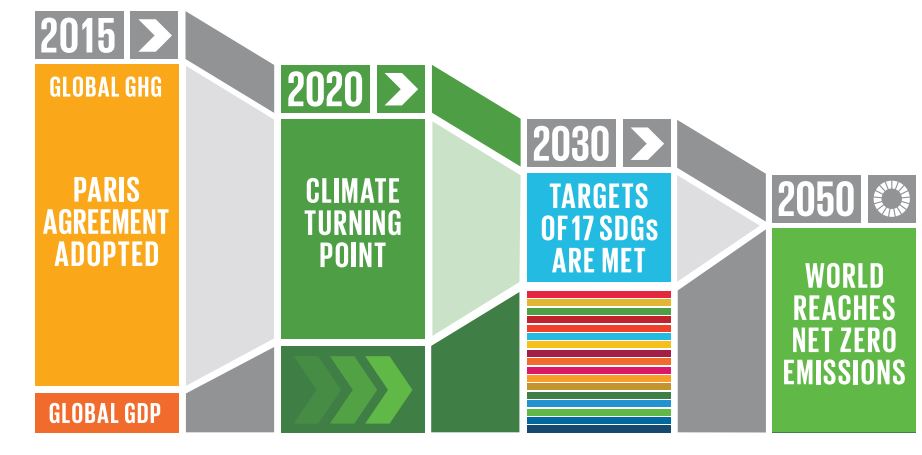 (source of image: http://www.mission2020.global/170402_M2020_5pager.pdf )
Reach 6 milestones by 2020
Meet the SDGs (Sustainable Development Goals) by 2030
2050: World reaches net zero emissions
The six milestones until 2020 are the following:
Energy: Renewables outcompete fossil fuels as new electricity sources worldwide.
Infrastructure: cities and states are implementing policies and regulations with the aim to fully decarbonize buildings by 2050.
Transport: zero emission transport is the preferred form of all new mobility in the world's major cities and transport routes
Land use: large-scale deforestation is replaced with large-scale land restoration. Agriculture shifts to earth-friendly practices.
Industry: heavy industry commits to being Paris compliant. It includes  iron & steel, cement, chemicals and oil & gas.
Finance: Investment in climate action is beyond USD$ 1 Trillion per year. All financial institutions have a disclosed transition strategy.
How can you act?
As an organization, you can be part of this movement. Among the solutions:
Read the "2020: The Climate turning point" report for more insights.
Assess your carbon footprint and implement reduction actions like switching to renewable energy or increasing zero emission transport
Align your emission reduction strategy on the 2°C Degree scenario with the science-based targets
Align your CSR strategy on the SDGs 
Communicate the results with your stakeholders
Advocate such practices and goals towards stakeholders
Be part of this big trend, make 2020 the climate turning point ! For any question, contact us at