An alternative to the traditional form of product and service acquisition is in vogue. Sharing Economy is the buzzword here. Essentially, this involves the temporary transfer of use of products that are lent, exchanged or shared. This can be observed both in the private and in the business environment.
Sharing Economy – Definition
Sharing Economy refers to the systematic lending as well as the mutual transfer of material (e.g. objects, premises) and immaterial property (e.g. knowledge).
Basic Sharing Economy conditions
The most important trend-setting framework conditions of the Sharing Economy are:
Increased digitalization (apps, mobile internet and social media platforms as online marketplaces for more efficient exchanges)
Changed value and consumption preferences
Concepts of the Sharing Economy are for example:
Car sharing systems (Mobility)
Wikipedia (Knowledge)
Entertainment goods (e.g. Otto Group)
Textiles (e.g. Tchibo)
What contribution can the Sharing Economy make in terms of environmental protection and sustainability?
On the one hand, the Sharing Economy has the potential to reduce damaging environmental impacts:

Reduced material and resource consumption
Lower water consumption (e.g. in textile manufacturing)
Lower soil sealing (e.g. fewer hotel buildings, because AirBnB or couchsurfing offers are used more)
However, it should be considered that in certain areas there is the risk of so-called rebound effects:

Mobility: on the one hand, less cars are needed (which means also less material) but on the other hand, the driven kilometre through car sharing offers is cheaper. Furthermore, costs (like reparation, insurance, taxes, etc.) are saved. This may result into a more intensive consumption of car sharing offers and the impacts on environment and human beings might be more negative
Cost savings in general: by borrowing and sharing items, users save money; this saved money could be spent on other items or for traveling for example, which also have environmental impacts to be considered
Which influence has the Sharing Economy on companies?
Many start-ups use the concept of the Sharing Economy as business model (e.g. Foodsharing, Kleiderkreisel). In addition, there are also some well-known companies that consider the Sharing Economy as a new business sector (e.g. Otto Group in the field of consumer electronics and fitness equipment). Probably, the most recent example is the coffee and retail chain Tchibo. Since the beginning of the year, it's possible to rent baby and children's clothing for a small fee and for a certain period of time (see Handelsblatt, 12th Jan. 2018).
Adapting one's own business model to a Sharing Economy concept can be well worthwhile for companies. A PwC study from the year 2016 underpins the potential. Revenues from relevant companies rose from € 1 billion to € 3.6 billion within two years (see Fig. 1). In addition, PwC predicts that the companies' revenues could rise to a total of € 83 billion by 2025 (see Fig. 2).

Fig. 1: Increased revenues in € billions by Sharing Economy providers from 2013 to 2015 (source: own presentation based on study by PwC UK on the Sharing Economy, p. 7)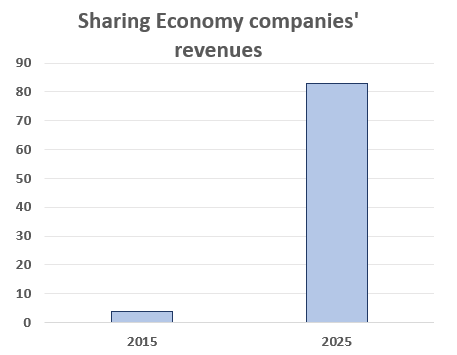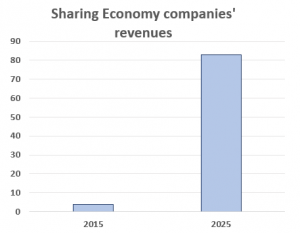 Fig. 2: Forecast regarding to increased revenues in € billions by Sharing Economy providers from 2015 to 2025 (source: own presentation based on study by PwC UK on the Sharing Economy)
Despite the rebound effects[1], the sharing economy concept within business activities can be a relevant element of your sustainability strategy. Cost savings can be achieved through material and resource savings. In addition, due to the 'sharing idea', an added value for the society can be generated. Innovative measures help to be in line with the ecological, social and economic dimension.
The DFGE supports companies in making sustainability activities transparent, e.g. by a GRI or UNGC sustainability report. Contact us for your Sustainability Intelligence at or +49.8192.99733-20.
[1] It is important to consider here the relevant context; not every business activity leads necessarily to rebound effects