This month, DFGE released a new white paper about the Sustainability in packaging, entitled Sustainability challenges and resources in the Packaging Industry.  Discover how to address the key topics and resources while identifying who you can partner with.
Sustainability in packaging: challenges
More and more requests go to the packaging sector in terms of sustainability. At the same time, the packaging demand is expected to grow steadily in the next years. First, DFGE analyzed the top 10 challenges packaging companies are facing. Below is the list of such topics:
Sustainable products (materials, end of life…)
CO2 emissions
Occupational health and safety
Energy management
Water management and effluents/waste
Impact on local communities
Diversity/Anti-discrimination
Customer health and safety
Supplier performance
Anti-corruption
Read more in the paper on how the packaging industry addresses each of these challenges.
Furthermore, packaging industries are facing requests from their customers, where they need to report through various platforms such as CDP or EcoVadis. Customers ask companies to take part in these questionnaires, which are then rated. More precisely, the paper offers an overview of the various reporting standards with details on how to address them, the main topics, the costs, the timeframes and so on. For example: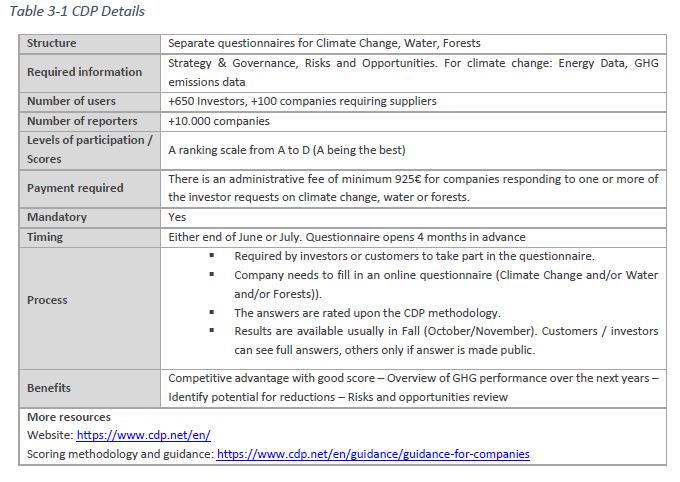 Sustainability in packaging: resources and solutions
Companies can resort to these standards on a voluntary or a mandatory basis, making it hard to keep track of the ongoing requests, or to make the links between the various standards. However, companies can benefit from external support to streamline their sustainability reporting, either with external institutes, or by being part of sector initiatives and associations.
Therefore, the paper lists the most important initiatives such as the Sustainable Packaging Coalition and the ecolabels such as FSC and PEFC. Again, they are presented in table format, showing only the key information such as available tools and how to become members, as well as the benefits.
Further resources
We hope this paper gives you an overview to get started and find your way through the sustainability in packaging.