Every year on April 22, Earth Day is celebrated in over 190 countries. In many countries, a new focus is set year by year, on which actions are focused. The motto of the year 2018 in Germany is "Sustainable mobility has a future – speed up for a livable transport turnaround".
What is the Earth Day?
Earth Day was invented 1970 in the USA. It should demonstrate to politics and the public the existence of a strong environmental movement in the country. Since then, millions of people and organizations in many countries around the world have been using April 22 to raise awareness of environmental issues. Actions on a local and global level should give food for thought to a more sustainable world. The German Earth Day movement is managed by a national committee based in Frankfurt. In 2018, the Earth Day in Germany revolves around mobility.
Current mobility in Germany
Currently, the Germans are moving mostly by car. As can be seen in Figure 1, 54% of journeys are made by car. On second and third place are footpaths and cycle paths, followed by public transport. German mobility equals 1,250 billion passenger-kilometers and 655 billion ton-kilometers each year. On average, Germans spend 83 minutes a day in traffic.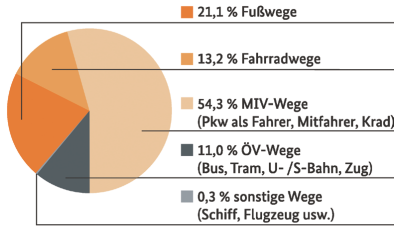 Figure 1 Modal Split Germany 2014
Source: BMVI 2016
In total, there are approximately 2,500,000 police-recorded accidents (2014). In addition, 841 million tons of CO2 and thousands of tons of nitrogen oxides, methane, etc. are emitted each year.
The five biggest problem areas
In connection with these figures, five problem areas can be identified. These can be considered individually, but in reality, there are many interactions.
Probably the most prominent challenge is climate change. Nearly 20% of all greenhouse gas emissions come from transport. Despite an increase in traffic, emissions have remained constant in the recent years due to new technologies.
Currently, the air pollutants such as nitrogen oxides are moving into the foreground. Exceeding harmful limits in many German cities and related scandals in the automotive industry  in recent years have led the broader population as well as business and politics to deal with the issue. Nevertheless, emissions of nitrogen oxides, volatile organic compounds and diesel soot have been reduced since 1990, although transport has increased. (More in our blog)
Noise is a problem especially in cities and on busy roads. Noise pollution has stagnated at a high level for many years and disturbs almost 60% of the population. A considerable part of this is even harmful.
Nature and landscape are a rare commodity in densely populated Germany. In order to maintain this, land use by traffic routes must be kept as low as possible and at best be reduced. In particular, linear traffic routes lead to a strong fragmentation of natural spaces.
The consequences of mobility hit cities and metropolitan areas particularly strongly. Due to the densification of processes, the effects are most evident here. Due to a small amount of space there is a constant competition for areas between cyclists and cars, walkers and people looking for a place to park or between those in hurry or seeking quiet. Due to the heavy traffic there is a high burden on people and the environment.
Solutions for the mobility of the future
The presented challenges should be addressed without restricting the mobility of the individual. Maintaining or increasing mobility is only possible in the long term with less traffic, so with a mobility of short distances.
In concrete terms, there are already various projects, technologies and initiatives whose widespread deployment in the future can address the problems.
For example, cities like Copenhagen or Vienna are actively trying to change the modal split and push out motorized private transport with all its fumes and noise from the metropolitan areas, through various measures. The removal of lanes for cars in favor of bike paths is only one option. The management of parking space or even removal of it can also move the inhabitants to a change to cycling or public transport.
Technologically, the negative effects of cars can gradually be reduced. Due to the falling costs and increasing ranges of electric cars these become more and more attractive. If these and the energy required for operation are generated in an environmentally friendly manner, they represent a quiet and, above all, low-emission alternative to conventional combustion engines.
Autonomous driving systems combined with car-sharing initiatives will further reduce traffic. As a result, journeys can be traveled faster, areas that were originally needed as roads can now be used for other purposes and costs for the individual can be saved. Added to this are the resulting positive effects on the environment.
Challenges for the automotive industry
The automotive industry is in transition. In particular, the major car manufacturers are under high social pressure. The desire for more environmental friendliness is also passed on within the supply chain.
Suppliers are 2018 more than ever required by their customers to publish their sustainability efforts via EcoVadis, to calculate emissions in all scopes and to participate in the programs of the Carbon Disclosure Project. The publication of CSR reports according to international standards such as GRI or UNGC is now a necessity, but the relatively young demand for science-based targets, so scientific reduction targets, is also receiving widespread approval. Overall, it can be observed that the large corporations don't only consider economic, but also environmental and social aspects when selecting their suppliers.
Thanks to many years of experience in the automotive industry, DFGE experts can provide you with individual support with their Sustainability Intelligence approach and help ensure that your company is well prepared for the future of sustainable mobility. If you have any questions, feel free to contact us via or by phone at 08192-99733-20.