DFGE introduces a new interactive Software-as-a-Service (SaaS) tool which enables companies to both set up science-based emission targets (SBTs) and develop a strategy on how to meet them at the lowest costs.
More and more companies quantify their greenhouse gas emissions (Carbon Footprint), report them publicly (e.g. via CDP) and set up science-based emission targets (SBTs) to stay within the global permissible CO2 budget. Yet, many companies are unsure how to meet these targets: Which emission reduction measures really have an impact? What about the financial implications? And how should measures be prioritized? This is where DFGE's new Climate Strategy Tool comes into play.
The Climate Strategy Tool covers all necessary steps to set up an integrated climate strategy and enables companies to effectively manage emissions: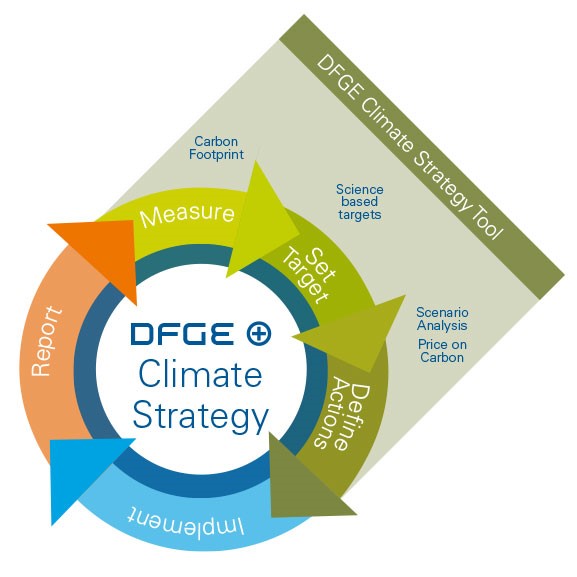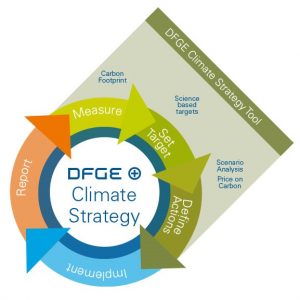 Climate strategy management cycle
Set science-based targets
Based on a company's corporate carbon footprint, the tool allows to set up science-based emission targets according to the official criteria of the Science Based Target Initiative (SBTi). It is possible to choose among several calculation methodologies and to modify parameters such as company sector, emission budget (two degrees (2DS), below two degrees (B2DS), 1.5 degrees), or base and target year. An automatic target check evaluates if the target is in accordance with the official SBTi criteria and therefore likely to pass the initiative's target check. All visualizations are interactive and adapt to parameter changes "on-the-fly".


Set up a science-based emission target
Prioritize emission reduction measures
A dedicated module in the Climate Strategy Tool allows companies to choose among several emission reduction measures to reach their target, such as absolute and relative reductions of gas and oil consumption, a switch to electrical vehicles, and an increase in terms of electricity efficiency or a switch to renewable electricity. In all cases, companies can define the extent to which the measure is implemented and the year in which the measure is intended to take place. Example choice: "Switch 20% of a company's vehicle fleet to electrical vehicles in the year 2025".
As a result, it is clearly indicated whether the selected measures are sufficient to reach the emission target, and which measure should be prioritized according to the associated costs per saved ton of carbon.
A stacked bar chart displays how each measure contributes to the projected company emissions in all years between base and target year
A waterfall chart breaks down the effects of each emission reduction measure individually
A further chart visualizes the costs per saved ton of CO2 for each measure
An automated export of targets and measures as pdf or interactive html file completes the picture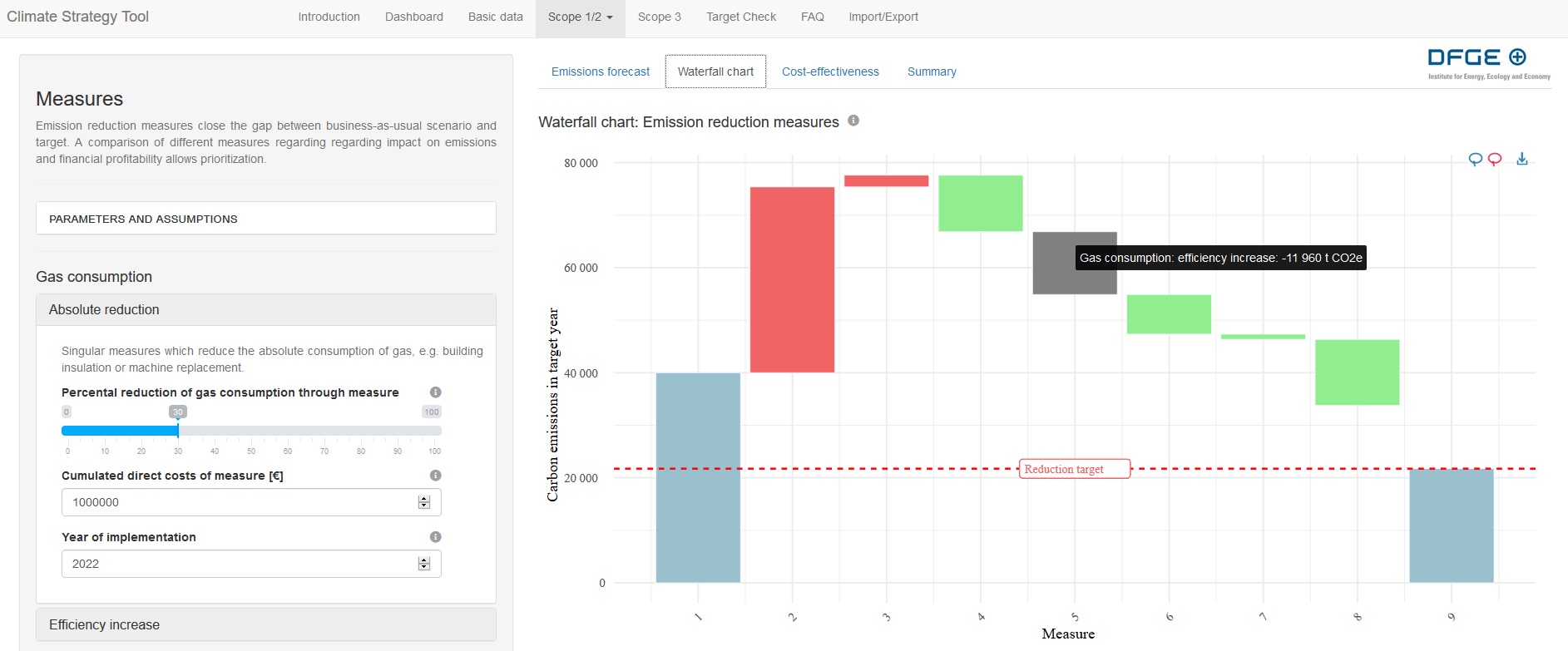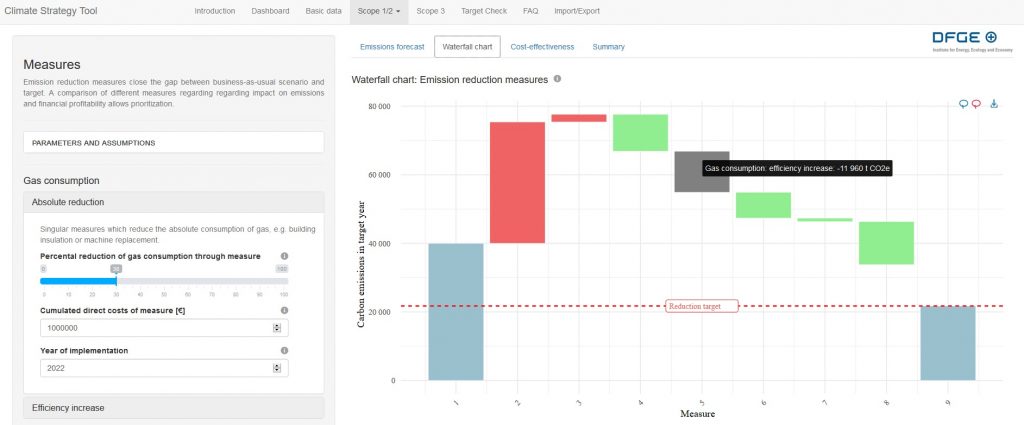 Waterfall chart with emission reduction measures
Cost factors modeled by the tool include saved costs from consumption of fuel and electricity, direct costs through the implementation of a measure and costs from a possible price on carbon. All cost parameters are displayed transparently and can be modified by the tool user.
DFGE's Climate Strategy Tool enables you to better understand your greenhouse gas emissions, set up science-based targets according to the latest methodologies and prioritize emission reduction measures based on a cost estimation per ton of carbon. It thus translates abstract emissions into costs and savings, which enables companies to factor environmental variables directly into their financial processes. Contact us via  or 08192-99733-20 and register for a free demo session!