The message of the SBT Initiative is clear: global emissions need to be halved by 2030. This great challenge needs a collective approach, through setting SBTs with supplier engagement targets. For most companies and their widespread supply chains, the scope 3 emissions are representing the majority of the companies GHG-inventory. For better reduction efforts, corporations must collaborate to identify and release synergies, in order to significantly reduce emissions.
Definition of relevant Levers for Supplier Engagement Targets
Starting with raising awareness and then taking the suppliers into responsibility will result in a cascading effect along the whole value chain and will drive for transparency regarding the involved players. Depending on the available ressources, not all suppliers could be held responsible with engagement targets, so in a first step, key suppliers must be identified for the further strategy. The SBTi set up a supplier engagement framework, defining steps to take responsibility of the supply chain in line with climate science:
Identifying key suppliers through setting priorities based on the characteristics of suppliers

For decision making, a scope 3 inventory screening approach is done by analysing the 15 categories regarding GHG-emission hotspots and visualizing it through differentiating with second level factors, as seen in figure 1 (including iterative calculation to improve accuracy)

First level factor: focus on highest contribution on GHG-emissions

Second level factors: status of strategic relationship or the suppliers will to cooperate; or geographic locations (e.g. countries with low or regressive politics of ESG-standards)
the tier-level of the supplier or the generated revenue should not be prioritised at first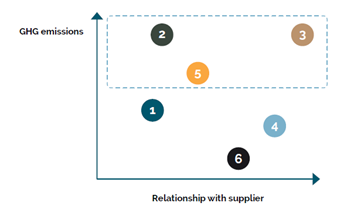 Develop the most suitable strategy, based on available resources

Ambitious scope 3 engagement targets are a relevant lever to the climate strategy and action plan of a corporation
Enabling synergies and setting up new collaborations with your partners and suppliers
Meeting the demands and interests of investors for risk mitigation and managing uncertainty: mitigate risks within the value chain, being able to push transparency and unlock drivers for business and process innovations
Proof of compatibility of targets with the own business model with a low-carbon future alongside the whole value chain
Show strong leadership and manage performance and risks at your value chain
Companies that are still questioning their responsibilities or their market-power within the supply chain could take on different stakes by influencing their suppliers:
| | | |
| --- | --- | --- |
| I. Voluntary promotion of GHG reduction | II. Competitive rating/scoring system | III. Company-set standards |
| Sensitise through support and inform suppliers – building up a better relation through communication and discovering synergies | Starting competition in your supplier-portfolio – increasing innovative processes and efficient product development | Regulate and force suppliers – mostly for larger corporations with good leverage on their suppliers |
Communicate with suppliers to help achieving their own SBT-strategy

Transparent expectations on what kind of data is needed for disclosure

Valid baseline: carbon footprint – calculation of the suppliers' emissions

Clear insights on the own SBT: e.g. by 2025, two-thirds of the production budget will only be spent on suppliers with already set SBTs and a GHG-emission reduction strategy

Specific feedback sessions for the individual suppliers, including webinars on best practice case studies, gathering "low-hanging fruits" as a change to renewable energy

Collaborate – most important element through applying the engagement strategy of step 2

Adopt the cascading effect: setting measures where the suppliers of the Tier 1-suppliers are also required

Creating incentives for taking action and good performance, e.g. procurement benefits for reaching a particular GHG-reduction target in form of a positive multiplier factor in the supplier rating

Connect the engagement targets with the positive impact on third-party assessments, standards, ratings and scorecards

Support and interaction along the supply chain

To overcome the complexity of an ongoing SBT-project and reduction strategies

Preventive measures against exhausting attitudes due to too many assessments and gathering of information

Supplier workshops and trainings on their engagement scope and target setting

Create standardized material for data collection for the key suppliers

Setting up monitoring of the suppliers GHG-emission reduction actions and measures as well as identifying responsibilities
Implementing reinforcement policies through both positive and negative consequences as incentives to motivate the active participation and collaboration:
| | | |
| --- | --- | --- |
| Positive | New suppliers | Negative |
| Setting up internal rewards for suppliers that are right on the SBT-track (prioritised position in contract biddings) or even awards to compliment the supplier and motivate to go further | Implementing a collaboration plan for setting up an engagement project (calculating the carbon footprint and reducing the emissions) | Choose suppliers with official and proper carbon reduction targets, measures, action plans, strategies; Setting low-carbon alternatives and priorities; As a last resort, switching the supplier as a result for not performing according to the GHG-emission reduction targets |
Quick Wins – Overcome first Challenges and Barriers for the Engagement of Suppliers
How to successfully start and define the baseline for supplier engagement approaches?
Setting up and revising the companies' procurement policies and strategies of buying centres
ESG-criteria must be integrated as purchase criteria
Keep sector-specific recommendations in mind
Start gathering of accurate and high-quality primary data for effective use
Build a trustful partnership with suppliers and partners regarding the provided data
Use secondary Data to close Data-Gaps
Set up assumptions and work with models and scenarios
Catch up on adding monetary value in form of a carbon pricing to the GHG-emission data
Consider working with downstream activities as well by providing transparent information and start engaging and educating customers regarding their own consuming behaviour to reduce downstream scope 3 emissions as well
Corporations need to take responsibility for their environmental and social influences along the whole value chain by decarbonizing it. New mechanisms and regulations – like the German Corporate Due Diligence Law (which will be obligatory from the beginning of 2023) and the proposal for the European Due Diligence Act (which will be expected to be approved by the EU in 2022) – are addressing risks within the value chain activities of corporations, their subsidiaries and suppliers. Start now with the calculation of your corporate carbon footprint and setting SBTs on the path of your climate strategy. For further questions on either of the topics, please contact us via  or by phone at +49 8192-99733-20.
Sources: