Slowly moving away from the COVID-19 lethargy and processing the latest IPCC report, the climate crisis has been omnipresent during the past couple of months. To limit global warming to 1.5°C, many countries have committed to drastically reduce greenhouse gas emissions and reaching Net-Zero. This however requires a comprehensive transformation across politics and all economic sectors to avoid more frequent and intense climate disasters.
Discussing the way forward to battle the climate crisis, governments and companies are often talking about the goal to reach zero-carbon by 2050.
But what does Net-Zero even mean and can we trust climate-neutral claims?
The IPCC defines Net-Zero as a state where there is no incremental addition of greenhouse gas emissions to the atmosphere. This definition simply means that all avoidable greenhouse gas emissions need to be reduced to a minimum and all remaining ones have to be removed from the atmosphere. This applies equally to companies: A 'carbon neutral' company does not add carbon dioxide to the atmosphere over a specific time period. Any carbon emissions that do occur must be removed through e.g., carbon sinks or direct air capture.
Following the global importance of the topic, for some companies, a literal race to announce Carbon-neutrality has started. However, companies and consumers are still facing lots of unclarity due to a missing common standard that clearly defines the requirements for economic players. As such, companies can claim to reach zero-carbon quite easily. A recent example is Facebook, which claims to be carbon neutral, even though the company only accounts for their direct emissions, but not their upstream and downstream emissions.
Since the maximum amount of emissions allowable to limit global warming to 1.5°C is running out, companies should quickly take action. To make that possible, companies need to overcome these uncertainties with the support of the right policy frameworks and experts. Planet earth needs to go on a carbon diet immediately.
SBTi Corporate Net-Zero Standard 2021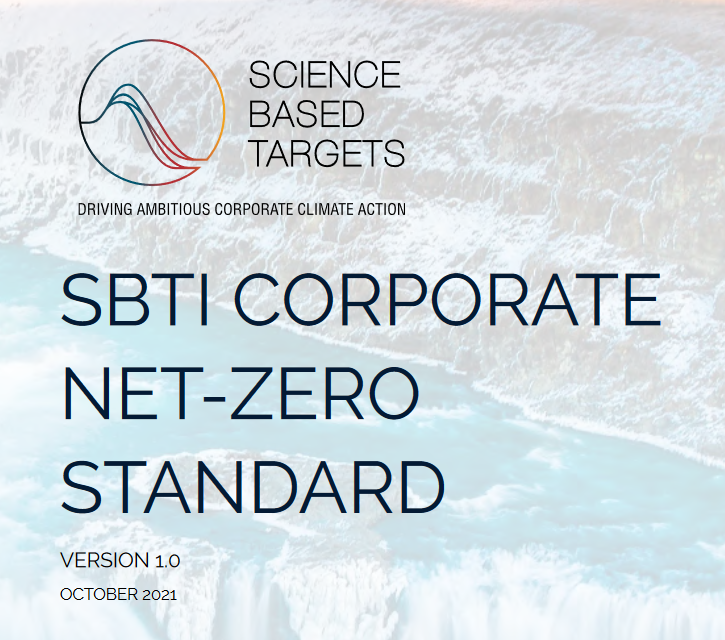 Through the SBTi, companies can commit to net-zero, which includes setting validated near-term and long-term science-based targets consistent with limiting temperature rise to 1.5°C, to become distinguished as climate leaders and drive forward the global transition to net-zero.
By clicking on the picture on the left, you will directly be forwarded to the new SBTi Corporate Net-Zero Standard wich was published on October 28, 2021. Enjoy reading.
Net-Zero and CDP
Following these uncertainties, CDP has announced to further evolve their disclosure system and questionnaires to further support companies to reach a resilient and zero-carbon future. As such, CDP is planning to make changes to the climate change questionnaire, focusing on the introduction of questions around transition planning. These metrics will enable the assessment of a company's transition to carbon neutrality.
DFGE can help you to move forward
DFGE – as the only partner of the CDP for Science Based Targets (SBT) – provides you with holistic support in the field of climate strategy. Starting with the recording of the carbon footprint using the proven DFGE Top-Down Approach, through the setting of targets and determination of CO2 saving potentials, the avoidance of CO2 emissions, to CO2 reporting and CO2 compensation for a climate-neutral company or product.
As a full-service provider, DFGE will be happy to support you in moving towards a zero-carbon future.
Sources:
https://ghgprotocol.org/corporate-standard
https://www.weforum.org/communities/gfc-on-net-zero-transition
https://www.dw.com/en/net-zero-by-2050-what-does-it-mean/a-48958487
https://emmi.substack.com/p/net-zero-emissions-why-it-can-be
https://www.southpole.com/sustainability-solutions/net-zero
https://www.weforum.org/agenda/2021/01/4-ways-build-net-zero-2050/
"https://www.energy-transitions.org/publications/making-mission-possible/"
https://www.iea.org/reports/net-zero-by-2050