Biodiversity refers to the variety of life on earth including plants, animals, fungi and microorganisms that make up our natural world. The 2021 Global Risk Report from the World Economic Forum reports that biodiversity loss is among the environmental risks that are rapidly increasing.
The main drivers of biodiversity loss are:
Land use and sea change: e.g. development, agriculture
Direct exploitation of organisms: e.g. hunting, fishing, logging
Climate change and severe weather
Pollution
Invasive alien species
Natural system modification
The main drivers of biodiversity loss are all connected to human and business activity.
Why is biodiversity (loss) relevant to companies?
Biodiversity loss is relevant to companies because they directly impact biodiversity by harming the nature through their operations, supply chains or investments.
In addition, nature provides ecosystem services worth at least $125tn per year globally, which businesses benefit from at no extra costs. Those services are for example waste decomposition, climate regulation and flood control. Habitat loss means losing these services, which in turn create extra costs and vulnerability for businesses. Therefore, it is crucial that companies step up their game in preserving bio-diversity.
The relevance of biodiversity for companies can be seen by the increasing focus of new initiatives and regulations on this topic. GRI (Global Reporting Initiative) and EFRAG (the European Financial Reporting Advisory Group) have recently joined forces on the work of new biodiversity standards. Another partnership has been established between CDP and BNP Paribas Asset Management in 2021 to explore and support the development of common biodiversity corporate reporting metrics. Environmental disclosure is critical in driving positive change, because it raises company and investors awareness on habitat risks and creates incentives for companies to reduce their impact on biodiversity loss.
CDP Questionnaire 2022
The CDP questionnaire collects information on measures and management of climate change, water security and deforestation. It is filled out by companies, cities or regions and helps them disclose their environmental impacts. It can help its high scorers to gain competitive advantages over their competitors. In line with the new 2025 strategy, CDP is expanding its work to accelerate the protection and restoration of nature and therefore will put more emphasis on biodiversity in the upcoming questionnaires. There will be questions on the corporate approach to biodiversity, aiming to render global investment decision-making more transparent by including biodiversity data. The new questionnaire for 2022, which soon will be published, will include broad questions around governance, commitments, monitoring and reporting on biodiversity issues.
Get support on your CDP journey from DFGE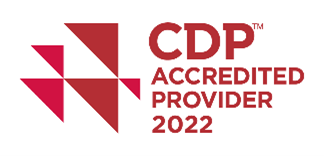 As a CDP silver climate change consultancy partner DFGE helps responding companies with the completion of their CDP questionnaire from data collection to final submission. With our expertise and as accredited provider, we can minimize efforts and resources at your end and ensure a successful participation with our CSR reporting solutions. DFGE is the first selected CDP partner for the German-speaking region.
DFGE can support you in improving your sustainability performance by ensuring your company's successful participation in the CDP Assessment as well as other sustainability ratings and initiatives.
To learn more about our services please contact us by email or give as a call!
Email: 
Tel: +49 (8192) 99733 20
Sources:
Biodiversity loss
https://www.cdp.net/en/articles/media/bnp-paribas-asset-management-and-cdp-partner-to-accelerate-the-development-of-biodiversity-reporting-metrics
https://www.globalreporting.org/about-gri/news-center/efrag-and-gri-to-co-construct-biodiversity-standard/