CDP is introducing the topic of plastic pollution to the 2023 Water Security questionnaire
CDP currently has three different questionnaires: CDP Climate Change, CDP Water Security and CDP Forests. All three of them have seen a significant increase in the number of disclosing companies each year. CDP continuously improves the questions and adapts the questionnaire to new relevant topics, in line with its 2025 strategy.
This is why starting in 2023, CDP has added a whole new chapter, focusing on plastic pollution, in the Water Security questionnaire. The new questions align with existing plastic-related reporting frameworks, including the Ellen MacArthur Foundation and UN Environment Programme's Global Commitment framework. The questions will cover plastics mapping, potential impacts to the environment and human health, business risks, and targets. There are also questions for companies with certain plastics production and use activities on total weight, raw material content, and circularity potential.
Important to note:
Up to 9 new questions on plastic pollution in the Water Security questionnaire
New questions available in the 2023 questionnaire
No scoring of plastics questions in 2023
The changes CDP is making come to no surprise when looking at CDP's 2020 Global Water Report. The report shows that the cost of inaction on water risks is up to five times the cost of action. While two-thirds of the disclosing businesses are reducing or maintaining their water withdrawals, only 4,4% of them are reporting progress against water pollution reduction targets.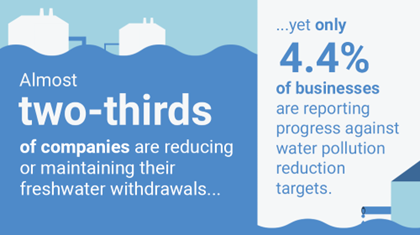 UN 2023 Water Conference
This is why CDP is now increasing the focus on water pollution, the changes coming ahead of the UN 2023 Water Conference, which will take place in March. The focus of the conference will be set on accelerated implementation and improved impact towards achieving Sustainable Development Goal 6 (increasing access to water and sanitation) and other water-related targets.
CDP has published an open letter to governments in February 2023, which has been signed by 30 investors representing over USD $1,7 trillion in assets. With this letter, they are urging policymakers to commit to stronger and deeper policy action and mandate water disclosure. In order to achieve SDG goal 6 and other water-related targets, the UN Water Conference will provide a suitable opportunity to take action. People interested to sign the letter as well, can do so on CDP's webpage Open Letter to Governments on Water Crisis – CDP.
The developments regarding water disclosure show that the importance and urgency of sustainable water-management is rising. Therefore, we strongly recommend companies, who currently only take part in the Climate Change questionnaire, to also prepare and take part in the Water Security questionnaire.
Get support on your CDP journey from DFGE
As a CDP Silver Climate Change Consultancy Partner, DFGE helps responding companies with the completion of their CDP questionnaire from data collection to final submission. With our expertise and as an accredited provider, we can minimize efforts and resources at your end and ensure a successful participation with our CSR reporting solutions. DFGE is the first selected CDP partner for the German-speaking region.
DFGE can support you in improving your sustainability performance by ensuring your company's successful participation in the CDP Assessment as well as other sustainability ratings and initiatives.
To learn more about our services please contact us by email or give as a call!
Email:
Tel: +49 (8192) 99733 20
Resources:
https://guidance.cdp.net/en/guidance?cid=48&ctype=theme&idtype=ThemeID&incchild=1&microsite=0&otype=Guidance&tags=TAG-646%2CTAG-607%2CTAG-599
https://www.cdp.net/en/research/global-reports/global-water-report-2020
https://www.cdp.net/en/research/global-reports/global-water-report-2020