EU plans more investment for clean technologies in Europe
The European Union is committed to address climate change and has set ambitious climate goals, including becoming climate neutral by 2050. One of their action to decarbonize the EU is the Net Zero Industry Act. The act, introduced 16th March, is an initiative stemming from the Green Deal Industrial Plan which aims to scale up the manufacturing of clean technologies in the EU. This means increasing the EU's manufacturing capacity of technologies that support the clean energy transition and release extremely low, zero or negative greenhouse gas emissions when they operate. Next to the Critical Raw Materials Act and the reform of the electricity market it can be understood as a reaction to the U.S. Inflation Reduction Act.
What is the Net Zero Industry Act about?
The idea of the act is to attract investments and create better conditions and market access for clean tech in the EU. The Union aims to reach overall strategic net-zero technologies manufacturing capacity at least 40% of annual deployment needs by 2030. Further, the Act simplifies the regulatory framework for the manufacturing of these technologies. This will help increase the competitiveness of the net-zero technology industry in Europe and also accelerate the capacity to store CO2 emissions.
EU Commission President Ursula von der Leyen stressed the need for a regulatory environment that enables a rapid transition to clean energy. She said the Net Zero Industry Act will create the best conditions for the sectors that are critical to achieving the net zero target by 2050 – such as wind turbines, heat pumps, solar panels, renewable hydrogen and CO2 storage.
Support of Green Key Technologies
The Act addresses technologies that will make a significant contribution to decarbonisation. Such technologies strengthen the EU's industrial competitiveness and energy system's resilience while allowing the clean energy transition (see figure):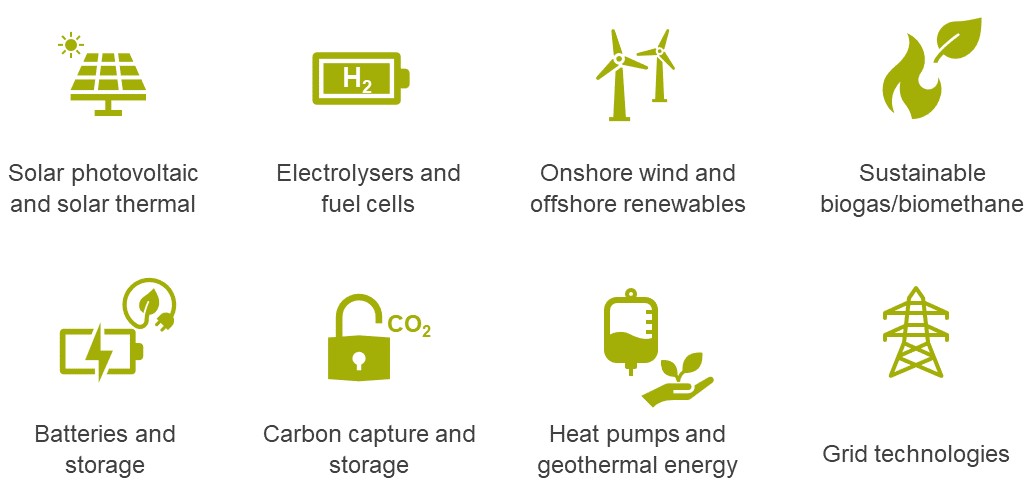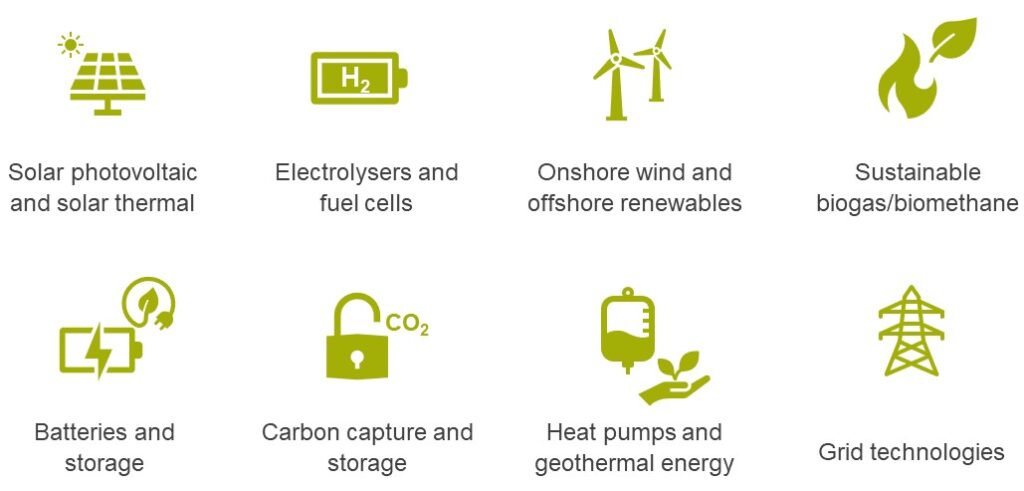 More information can be found on the EU website.
Support from DFGE
For more information on Net-Zero, Science-Based targets or climate strategy take a look at the DFGE solution. If you have further questions, please contact us via or by phone at +49 8192-99733-20.