The year 2023 is just around the corner, hence it is important to have the most important sustainability reporting dates and deadlines on your radar. With this blogpost, we want to offer a brief overview of 2023 keeping in mind that there may be major differences depending on company size and location as well as possibly arising sector-specific requirements.
As soon as business data from 2022 is available, your Carbon Footprint calculation can be kicked-off. An early start can ensure that emissions data is available in time for your own sustainability report, but also for external disclosure requirements such as CDP.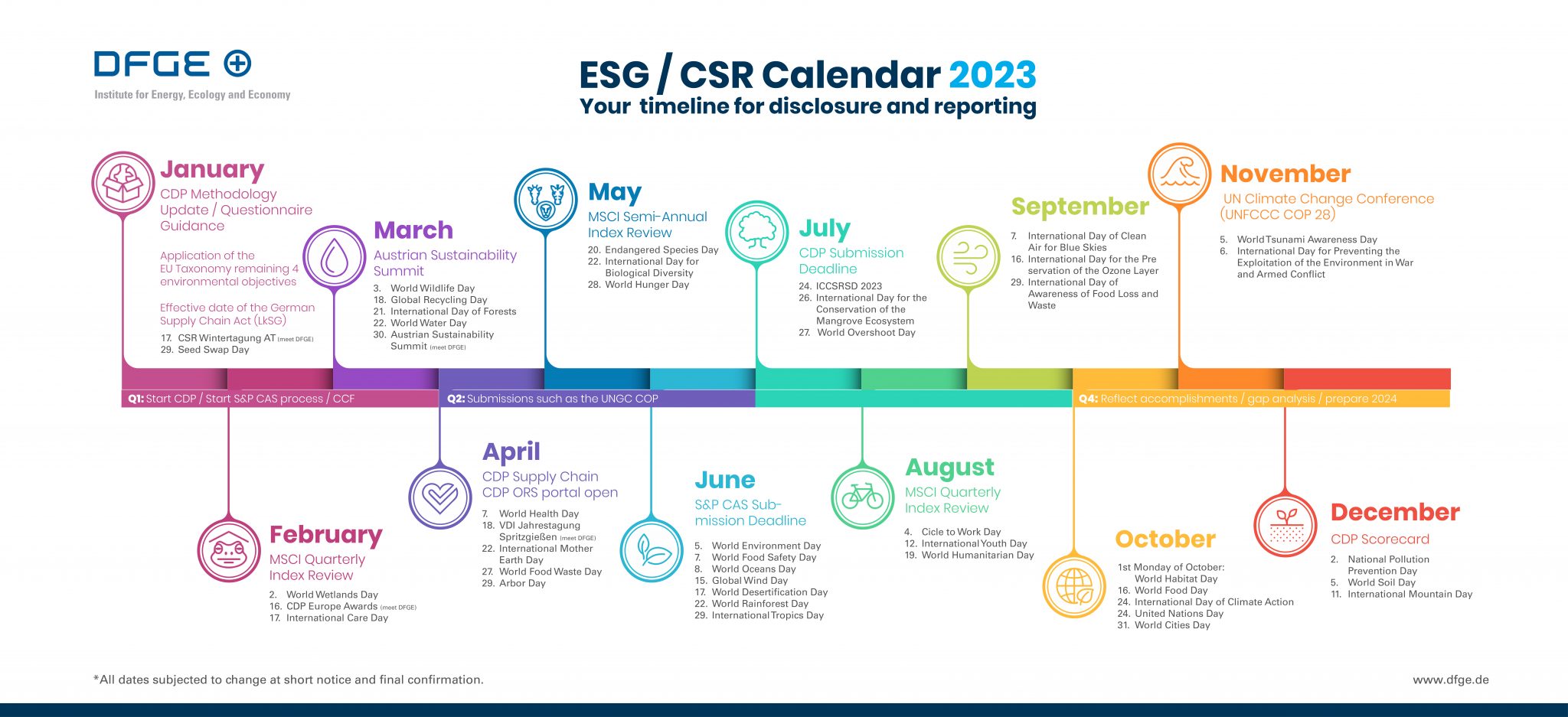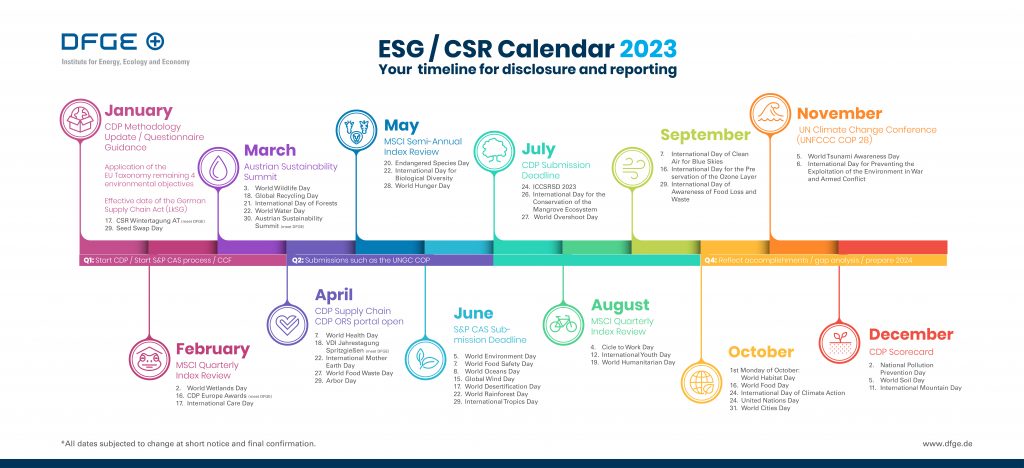 New regulatory requirements
By January 2023 the disclosure of the remaining four environmental objectives of the EU taxonomy (sustainable use and protection of water and marine resources, transition to a circular economy, pollution prevention and control, the protection and restoration of biodiversity and ecosystems) gets mandatory.
With the beginning of the year, the German Supply Chain Act (Lieferkettensorgfaltspflichtengesetz, LkSG) comes into force requiring companies to ensure compliance with human rights among their supply chain. It will apply for companies with a workforce of at least 3.000 employees (from 2024 already from 1.000 employees).
Disclosing and Reporting
CDP:
Early in the year, CDP will publish its updated methodology and questionnaires and therefore preparations for disclosure can begin. At the beginning of April, the CDP ORS portal will open, and all CDP data will have to be submitted by the submission deadline at the end of July. As more and more environmental criteria come into the focus of stakeholders, you may also be asked to answer the CDP questionnaire on Forest or Water for the first time this year.
UNGC Communication on Progress (CoP):
Starting in 2023, the format of the UNGC CoP will change fundamentally: It is no longer necessary to submit a narrative report, but instead to complete a standardized questionnaire and provide a signed CEO statement. To make this as easy as possible, the UNGC has developed a new digital platform.
Important for timing: From 2023 onwards, there will be a universal submission period for the CoP running from March 1st to 30th June. Read all information on the new CoP in our latest UNGC blog post.
Ecovadis:
As always, the timing of an Ecovaids assessment must be planned on an individual company basis. As of January 2023, Ecovadis is adjusting its scoring thresholds, which will require more points to earn a corresponding medal. For full details, read our latest Ecovadis blog post.
We are happy to support you
In the coming year, our sustainability experts will once again be participating in a variety of events like the CDP Europe Awards (16th February) or the Austrian Sustainability Summit (30th March) and look forward to engaging with you about your current sustainability challenges.
In times of increasing sustainability and reporting requirements, we as an experienced partner are happy to take (at least part of) the burden off your shoulders. We support you, by calculating your carbon footprint, assisting you with reporting topics such as CDP or Ecovadis, or by developing a holistic climate strategy. Do not hesitate to contact us via or by phone at +49 8192-99733-20.